Top 25 Most Athletic Freaks of All Time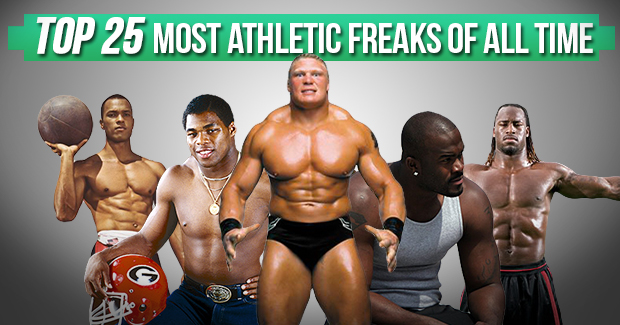 This is a continuation of our list of the Top 25 Most Athletic Freaks of All Time. Here is the top 10:
---
#10 – LeBron James
At 6'8, 250 lbs., LeBron James is so athletic that he can play any position on the basketball court, a rare combination of talent, size, strength and quickness that has never been seen before. We have never seen a basketball player who has his fingerprint on so many plays throughout the game, often racking up close to triple double stats every game. He has the ability to play at any position on the court (Point Guard through Center), both on the offensive and defensive sides of the ball. LeBron has a measured vertical leap of 44 inches and reportedly ran a 4.4 40-yard dash in high school. He has proved he is a multi-sport athlete. He caught 57 passes, 1,160 yards and 16 touchdowns as an All-State wide receiver during his junior year of high school. He also played prevent safety and often quarterbacked the scout team. LeBron's high school defensive coordinator said LeBron could throw a football 70 yards. Many believe he could have had a productive NFL career and might even be able to play in an NFL game with little practice.
---
#9 – Wilt Chamberlin
Wilt Chamberlin dominated basketball like no other. He holds numerous NBA all-time records in scoring, rebounding and durability categories. He is the only player to score 100 points in a single NBA game or average more than 40 and 50 points in a season. He led the league multiple times in scoring, field goal percentage and rebounding, even leading the league once in assists as a center! He had some of the best athleticism ever displayed for a 7 footer. The man stood 7'1 and weighed 275 pounds and could do the same things that someone a foot shorter could do. His durability was never questioned. Throughout his entire career, he played nearly every minute in an NBA game and led the league in minutes played in eight different seasons. This was a man who never seemed tired and played with countless injuries in his final years.
Chamberlin could reportedly bench press over 550 pounds and had a 50 inch vertical jump. To put that into perspective, he had a higher vertical leap than Michael Jordan or LeBron James. He also ran a 10.8 100 meter dash (which translates to roughly a 4.4 40 yard dash). He shot putted 56 feet and triple jumped more than 50 feet as a collegiate track star. This guy played basketball as a center but he moved on the court like a guard due to his pure athleticism. He was a lifelong bachelor, and claimed to have had sex with over 20,000 women in his book. Doing the math on this…if Wilt started at the age of 15, from then up to the age of 55 (when his book was published) he would have had 40 years to sleep with 20,000 women, or 500 different women a year. That works out to roughly 1.4 women a day. The man truly had endurance like no other…
---
#8 – Bruce Lee
If there was a guy like this in the MMA today, little to no one could stand a chance. Bruce Lee was undoubtedly one of the strongest and quickest men on the planet. At just 5'7 and 140 pounds, Lee had some of the best pound-for-pound strength ever displayed.
To reiterate some of his most interesting feats of strength from the video below:
Lee's striking speed from three feet with his hands down by his side reached five hundredths of a second.
His combat movements were at times too fast to be captured on film for clear slow motion replay during that time.
He could snatch a dime off a person's open palm before they could close it, and leave a penny behind.
He performed 50 reps of one-arm chin-ups.
He could break wooden boards 6 inches thick.
He was able to jump 8 feet from a stand still.
He could hold an elevated V-sit position for 30 minutes or longer.
He could cause a 300 pound bag to hit the ceiling with a sidekick.
As Chuck Norris proclaimed, "Lee, pound for pound, might well have been one of the strongest men in the world, and certainly one of the quickest. Whether doing one-handed, two-finger push-ups, or horizontally holding up a 125-pound barbell, Lee was impressively strong for his size, especially at only 140-145 pounds."
---
#7 – Bryan Clay
Bryan Clay is an American decathlete. He is the 2008 Olympic champion and was also World Champion in 2005. Clay won the gold medal at the 2008 Olympics in the decathlon. His victory margin of 240 points was the largest since 1972. His results were as follows:
100 m – 10.35
200 m – 21.34
400 m – 47.78
110 m Hurdles – 13.64
1500 m – 4:38.93
Long Jump – 8.06 (26′ 6")
High Jump – 2.10 (6′ 10.5")
Pole Vault – 5.15 (16′ 10.75")
Shot Put – 16.27 (53′ 4")
Discus Throw – 55.87 (world decathlon best 183′ 3")
Javelin Throw – 72.00 (236′)
60 m – 6.65
60 m Hurdles – 7.77
1000 m – 2:49.41
The 5'10, 180 lb. Clay was tested by the SPARQ, which is a standardized test for athleticism. "SPARQ" is an acronym for Speed, Power, Agility, Reaction, and Quickness. In the football test, Clay recorded a football score of 130.40, the highest ever recorded. By comparison, Reggie Bush scored a 93.38 on the test. Clay has a vertical leap of 43.5 inches, one of the highest no step vertical jumps in NBA/NFL Combine history. He ran the 30-yard sprint (distance from home plate to first base) faster than Jacoby Ellsbury, one of the fastest major league baseball players and had the same SPARQ rating in baseball as him. Clay performed all tests, and his other ratings were:
SOCCER – 96.50
BASEBALL – 102.00
BASKETBALL – 90.00
ATHLETIC ASSESSMENT – 145.00
His basketball SPARQ rating is better than every professional basketball player including Derrick Rose, LeBron James, Kobe Bryant, and Dwayne Wade. Although Bryan Clay was upstaged by fellow Decathlete Ashton Eaton in the 2012 Olympics, Clay had the better overall career and has 8 more years on Eaton. Clay truly set the precedent for decathletes and athletes everywhere.
---
#6 – Babe Didrikson Zaharias
Babe Didrikson won 41 LPGA events and 11 majors and was an All-American basketball player. She even won two track and field gold medals in the 1932 Olympics. Who knows what else she would have done if she did not die of cancer at 42 years old. She was the greatest female athlete of all-time.
---
#5 – Jim Brown
Jim Brown was named by Sporting News as the greatest professional football player ever and is known by many as one of the greatest professional athletes in history. During his 9 year NFL career, he averaged an NFL record 5.2 yards a carry. He is widely known as one of the most difficult people to tackle, often requiring more than one person to bring him down. Brown retired at age 30 and retired from the NFL with records in yards, total touchdowns and rushing touchdowns, records that have since been broken. Imagine what Brown could have accomplished if he played for 5 more years.
The 6'2″, 232 lb. Brown is also known as one of the greatest lacrosse players of all-time. He is in the Lacrosse Hall of Fame in addition to the Pro Football Hall of Fame and College Football Hall of Fame. This gives him a rare triple crown of sorts as well as being one of the few athletes to be a Hall of Fame member in more than one sport. He also played basketball at Syracuse, where he was second on the team in scoring. He also earned a letter in track. He played four different sports in college, dominating in all of them. We only wish we knew his strength stats back then. He would have dominated in that too.
---
#4 – Herschel Walker
Herschel Walker is anything but ordinary. At the high school level, he won the state title in shot put, 100-yard dash, and 200-yard dash. He also ran the 100 meters in 10.22 seconds, which is not far off from Olympic-like numbers. He also ran 100 yards in 9.3 seconds. During his college years at the University of Georgia, he set the freshman rushing record en route to a national championship his first year, finishing third in the Heisman Trophy race. He won the Heisman Trophy during his junior year in 1982. Walker left college after his junior year to go to the USFL, where he was a two-time rushing champion before going to the NFL. Not only did Walker excel in sports such as football and track and field, he is also a fifth-degree black belt in tae kwon do and competed in the 1992 Winter Olympics in two-man bobsled, finishing seventh. The 6'1″, 225 lb. Walker claims to not lift weights. Instead, he performs 3,500 sit-ups and 1,000 pushups every morning that he wakes up. He has done the same routine since high school. At the age of 48, Walker decided to pursue a career in the MMA, a true testament to his longevity as a physical freak.
---
#3 – Deion Sanders
Deion Sanders was considered one of the most versatile athletes in history. Primetime truly defined the term athlete. At 6'1″ and 195 lbs., Sanders played multiple positions in baseball and football, setting records and dominating. He was the prototypical cornerback ball hawk and elite return guy that every NFL coach wanted on their team. At Florida State, he did football, baseball, and track. Besides leading the track and field team to a conference championship, he was a two-time consensus All-American cornerback in 1986 and 1987, and a third team All-American in 1988. He was also a standout punt returner, breaking the school's record for career punt return yards. In baseball, he hit .331 one year and stole 27 bases the next. On one occasion, Sanders played the first game of a baseball doubleheader, ran in the 4×100 relay, and then returned to play another baseball game. Sanders played a nine-year, part-time baseball career, playing in 641 games with 4 teams. Although it wasn't nearly as good as his football career, Sanders hit .304, stole 26 bases, and led the NL with 14 triples in 97 games during the 1993 season for the Atlanta Braves. The year before, he batted over .500 in the 1992 World Series with a broken bone in his foot. He also finished second in the NL with 56 stolen bases for the Cincinnati Reds in 1997, doing so in only 115 games.
Sanders achieved the most fame during his 14-year NFL career, being a perennial All-Pro and one of the best pass defenders to ever play the game, specifically playing for the Cowboys, 49ers, and Falcons. He also even filled in for Hall of Famer Michael Irvin at wide receiver during Irvin's suspension in 1996. As a cornerback and special teams player, Sanders was selected to eight Pro Bowls and was awarded the Defensive Player of the Year Award in 1994. His 19 defensive and return touchdowns are an NFL record. During the 1989 season, he hit a major league home run and scored a touchdown in the same week, the only player to ever do so. Sanders is also the only man to play in both a World Series and Super Bowl. Sanders ran a 4.1 40-yard dash at his pro-day workout prior to the 1989 NFL Draft. That time was one of the fastest known 40-yard dash times by an NFL player or prospect in history.
---
#2 – Bo Jackson
When you talk about athletics, Bo Jackson has got to come to mind. The 6'1″, 225 lb. Jackson was the first athlete to be named an All-Star in two major American sports (baseball and football). He also won the Heisman Trophy in 1985. Jackson also considered joining the USA Olympic team, but sprinting wouldn't give him the financial security that the other sports would. He reportedly ran a hand-timed 4.12 40-yard dash, still considered the fastest verifiable 40 time at an NFL Combine.
---
#1 – Jim Thorpe
Even though Jim Thorpe played in perhaps the earliest stages of athletics, he should be amongst the greatest when it comes to being a true athletic freak. Thorpe won gold medals in both the decathlon and pentathlon events in the 1912 Olympics in Sweden. He was so good in track and field that he could also run the 100-yard dash in 10 seconds flat, the 220 in 21.8 seconds, the 440 in 51.8 seconds, the 880 in 1:57, the mile in 4:35, the 120-yard high hurdles in 15 seconds, and the 220-yard low hurdles in 24 seconds. In addition, Thorpe could long jump 23 ft 6 in and high-jump 6 ft 5 in. He could pole vault 11 feet, shot put 47 ft 9 in, javelin throw 163 feet, and throw the discus 136 feet. However, he was stripped of his medals because he played two years of semi-professional baseball.
The 6'1, 190 lb. Thorpe was an All-American halfback at Carlisle, scoring 25 touchdowns and 198 points in his last collegiate season. He was also the team's defensive back, placekicker, and punter. He was so good that after a 92-yard touchdown run was called back due to a teammate's penalty, he ran a 97-yard touchdown on the very next play. He won the national championship in 1912, carrying the team on his shoulders. Future President Dwight Eisenhower injured his knee trying to tackle Thorpe in that game. Eisenhower once said of Thorpe, "Here and there, there are some people who are supremely endowed. My memory goes back to Jim Thorpe. He never practiced in his life, and he could do anything better than any other football player I ever saw." It was also recorded that Jim Thorpe punted a ball 95 yards in a game to put the ball out of reach from the other team. Once out of school, he played baseball for the New York Giants. From 1913 to 1929 he would go back and forth between playing professional baseball and football, which he played until he was 41 years old. He even made it to the All-NFL team in 1923. It was also discovered that Thorpe played basketball, but this period of his life was not well documented.
Source: Adapted from a compilation of YouTube clips, documentaries, forums, interviews and/or features