Top 25 Most Athletic Freaks of All Time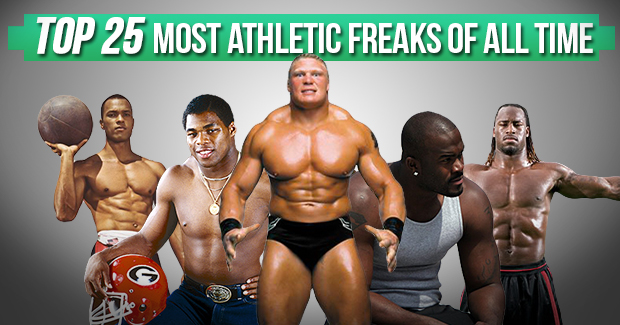 We went through all the sports and examined those athletes who demonstrate the most freakish, athletic ability. Think of it like this…if you ran a sports team and you needed a pure athlete, these are the guys you would want on your team from a pure athletic standpoint. This is not a greatest athletes list, but simply looking at it from a genetic standpoint. Most of these guys worked hard to get to where they were, but a maximal genetic envelope often plays the biggest role in this list. We narrowed the list down to the top 25 biggest athletic freaks in history (in order). The term "athletic freak" can be defined as their raw talent in terms of physical giftedness and athletic ability in terms of strength, size, raw power, agility, and durability.
The biggest surprise you will notice is that Michael Jordan is not on this list. Jordan became the world's greatest athlete but he possessed a combination of imperfections. He was not necessarily a true athletic freak who was genetically blessed with innate abilities like raw speed or the quickest cutting ability. Jordan worked and worked to get to where he was, which helped make him the greatest of all time. He was known as the hardest worker on the court, which elevated him to where he was. This was evident by his stint playing professional baseball in which he started out terrible and drastically improved within just one year of playing the game. The people on this list were just born as pure, natural athletic freaks who could dominate in their sport, getting by on talent, and could probably play professional in numerous sports if they tried.
---
#25 – Dave Winfield
Dave Winfield enjoyed a fantastic 22 year career in the majors, earning 12 All-Star awards and 7 Gold Gloves. He is now a member of both the Baseball Hall of Fame and College Baseball Hall of Fame. Besides excelling in baseball, Winfield was a star basketball player at Minnesota and helped win the school's first title in 53 years. He was eventually drafted by the Hawks and Jazz of the NBA, and was even chosen by the Vikings of the NFL despite never playing college football.
---
#24 – Gordie Howe
Besides being one of the greatest hockey players ever with six MVPs and six scoring titles with the Detroit Red Wings, Gordie Howe displayed some of the best longevity ever seen among a professional athlete. Howe is the only player to have competed in the NHL in five different decades, doing so from the 1940s through 1980s. He skated right wing through the presidencies of Harry Truman, Dwight Eisenhower, John Kennedy, Lyndon Johnson, Richard Nixon, Gerald Ford and Jimmy Carter. He played for a remarkable 32 years, even playing a regular shift in the NFL at age 51. The 6'4, 204 lb. Howe was one of the toughest players out there and was known as one of the NHL's greatest fighters. He coined the term "Gordie Howe Hat Trick", which is a variation of the hat-trick, wherein a player scores a goal, records an assist, and gets in a fight all in one game.
---
#23 – Mario Williams
Mario Williams had such an impressive NFL Combine performance that he was chosen over Reggie Bush in the 2006 NFL Draft, which seemed ludicrous to many at the time. Bush was one of the most dominating players to ever come out of college football and many thought he was a sure thing as the #1 overall draft pick. However, Williams dominated so strongly at the Combine that the Houston Texans selected him over Bush. Williams has had a very solid career with 2 All-Pro selections but most football fans will remember him as a true genetic freak who may never live up to his full potential. At the 2006 NFL Combine, the 6'6, 292 lb. Williams, who had an astonishing 7% body fat, ran a 4.66 40 time and added a 40.5″ vertical and 35 reps at 225 lbs. on the bench press. These are incredible statistics considering his massive size.
---
#22 – Mike Tyson
Mike Tyson was truly "The Baddest Man on the Planet" during his early years. Tyson won his first 19 professional bouts by knockout, 12 of them in the first round. He became the youngest heavyweight champion at 20 years old when he knocked out Trevor Berbik in the second round. He was arguably the most feared boxer in professional boxing history, and may of been the most feared athlete ever. However, Tyson dealt with numerous personal problems in his career and could never keep himself entirely focused. He became his own worst enemy and no one knows truly how great he could have been. His reign at the top was short-lived but during that time there may of never been someone so dominating and feared. Tyson was a man among boys in his sport.
---
#21 – Calvin Johnson
Calvin Johnson was one of the most hyped college wide receivers of all time coming out of Georgia Tech in 2007. He was regarded as one of the best athletes to enter the NFL Draft. In a mid-February workout before the NFL Draft, Johnson clocked a 40-yard dash time of 4.3 seconds, doing so on consecutive times. He had a 10.23 second 100-meter sprint, recorded an 11-foot standing broad jump and a vertical leap of 43 inches, doing this all at 6'5 and 235 lbs. At the actual Combine, Johnson ran a 4.35 40 time and an 11 ft 7 inch broad jump, which was one of the best in history. Johnson was selected second overall in the 2007 NFL Draft, establishing himself as one of the best wide receivers in the NFL today.
---
#20 – Adrian Peterson
Peterson played college football for the University of Oklahoma and set the NCAA freshman rushing record. He became the first freshman to finish runner-up in the Heisman Trophy balloting. After being drafted seventh in the 2007 NFL Draft, Peterson has emerged as one of the best running backs in the NFL today. The 6'1, 217 lb. Peterson has pretty freak stats with his 4.38 40 yard dash and 38 inch vertical jump. He also has super strong legs with his 540 pound squat. Adrian Peterson's case to make this list is even stronger because of his amazing comeback from a devastating injury that occurred at the end of the 2011 season. His return from a torn ACL and MCL in nine months defied reality. The following season, he rushed for over 2,000 yards and won the rushing title and league MVP. It was one of the greatest seasons ever for a running back and he did it all after tearing his knee up less than a year before. At a position where losing even half a step can end a career, Peterson looks better than ever. It's hard to find an athlete who has come back from a devastating injury this quickly and still be on top of his game in such a short period of time. This man is truly a freak.
---
#19 – Usain Bolt
From a pure domination standpoint, Usain Bolt is untouchable. He is widely regarded as the fastest person ever. He won back to back Olympic 100 meter and 200 meter dashes and has world records in both events. He also won back to back 4×100 meter relays. You can look at athletes like Michael Phelps or Tiger Woods and say they have been just as dominant in their respective sport. However, Bolt is a true freak compared to the other two. At 6'5, he towers over his competitors, most of whom are at 6 foot or under. Look at two of Bolt's main competitors, Tyson Gay and fellow Jamaican Yohan Blake. Gay is 5'10 and Blake is 5'11. Bolt has 5 to 6 inches on them. Muscle speed in animals is generally tied to their size. For example, rodents are much smaller than elephants and therefore can move their muscles much faster. The same holds true for human beings. Sprinters are usually short and have more fast-twitch muscle fibers, allowing them to accelerate quickly, but compromising their ability to run longer distances due to stride length. Bolt, however, combines the mechanical advantages of taller men's bodies with the fast-twitch fibers of smaller men. This is something that hasn't really been seen in other sprinters.
---
#18 – Michael Vick
The NFL may never see another player like Michael Vick. Vick has the speed of a running back playing quarterback. Vick ran the 40 yard dash in an astonishing 4.33 seconds. His time has been clocked as low as 4.25, making him undoubtedly the fastest quarterback to ever play in the NFL and quite possibly one of the fastest players ever. He even had a 38 inch vertical, which was extremely rare for his position. Vick was even drafted in the 30th round of the 2000 MLB Draft by the Colorado Rockies, despite not playing baseball since the 8th grade. We all know what Vick has done on the field, making numerous Pro Bowls and being the all-time NFL leading rusher for quarterbacks. His speed and quickness is truly legendary and he may have had the best potential among any athlete we've ever seen.
---
#17 – Julius Peppers
The 6'7, 287 lb. Julius Peppers gets the edge over fellow defensive end Mario Williams because he excelled at three different sports at once. In high school, Peppers was among one of the best football players in the nation and was a star basketball player, even being heavily recruited by Duke. He also was a track star, placing second in the triple jump at the state track meet, despite wearing spikes two sizes too small because his size 18 shoes couldn't be found. In high school, Peppers bench-pressed 425 pounds, ran the 40 in 4.5 seconds and had a 37.5 vertical leap at only 4% body fat, accomplishing all this at 6'5 and 225 lbs. During his redshirt year at North Carolina, his football coaches couldn't decide at which position to put him so they listed him on the roster as "athlete". He also played college basketball at North Carolina, which is one of the best all-time basketball programs, which further shows why he is such a natural athlete. Since being drafted in 2002, Peppers has been one of the better defensive players in the NFL, winning the NFC Defensive Player of the Year in 2004.
---
#16 – Serena Williams
Besides winning 36 major titles and four Olympic gold medals, Serena Williams may be unlike any female athlete we've ever seen. Williams can consistently serve the ball at 120 mph, faster than the serves of some professional men. Her durability is unlike any other female athlete. She's been playing professionally since she was 13 in 1995. She has played at a high level since 1999 and she is still a top tennis player in the world as she gets older. She could have many years left and can continue to dominate unlike any other. Although not much is known on her actual strength stats, you could take one look at her and see she has some of the best genes ever, male or female.
---
#15 – Vernon Davis
Vernon Davis is a 6'3, 253 lb. tight end with just 4% percent body fat. Coming out of Maryland for the 2006 NFL Draft, Davis ran a 4.38 40-yard dash with a 42-inch vertical leap. He also did 33 reps on the 225 lb. bench press. In high school, Davis ran a 10.7 second 100-meter dash and high jumped 6'5" on the track and field team. When he got to college, the assistant strength coach bet Davis that he couldn't beat his 425-pound bench press record. Davis not only broke the bench press record at Maryland, but all five others, too. He did a 585-pound squat, a 355-pound power clean, 4.44 seconds in the 40-yard dash and a 38-inch vertical leap, doing this all at 242 lbs. He broke every tight end record as a true freshman. As a sophomore, Davis broke all six of the records he'd set the year before. Then, as a junior, he broke all of his records again, with a 460-pound bench, 685-pound squat, 355-pound clean, 4.41 40-yard dash and a 40-inch vertical leap at 256 lbs. In the gym, Davis does things like six reps of 405 lbs. on the bench, three reps of 355 lbs. on power cleans and 10 reps of 525 lbs. on squats. He's a true gym rat and workout warrior.
---
#14 – Brock Lesnar
Brock Lesnar is a monster. He competed at the highest levels in college wrestling and in mixed martial arts, not to mention his reign as the top wrestler in the WWE. Lesnar won the 2000 NCAA heavyweight wrestling championships and became the youngest WWE champion at age 25 in his first reign. He captured the UFC Heavyweight Championship in a little over a year of competing in the UFC. He even played briefly in the NFL for the Minnesota Vikings. The man has done it all. At 6'3, 265 lbs., Lesnar has a confirmed 475 lb. bench press and can bench 225 lbs. for 44 reps. In a documentary, Kurt Angle said that he has seen Lesnar bench over 600 lbs. What may be even more impressive is his squat. He has a confirmed 690 lb. squat. In that same documentary, Angle said that he has also seen Lesnar squat 900 lbs. He also has a confirmed 720 lb. deadlift. During his preparation for the 2004 NFL Combine, Lesnar also recorded a 4.7 second 40 yard dash time, 10 foot standing broad jump, and a 35 inch vertical leap, all while doing this at 290 lbs. Now he's back wrecking havoc inside a WWE ring.
---
#13 – Tony Mandarich
We know this man is now a self-proclaimed steroid user. The performance enhancing drugs obviously got him to where he was. However, steroids or no steroids, this man was one of the biggest physical specimens we've ever seen, especially at the college level. It would be hard to find any collegiate or professional athlete who has ever done steroids to match the strength and quickness of a man his size. His statistics were so insane we had to include him on this list. The 1989 NFL Draft produced some of the best football players of all time such as Troy Aikman, Barry Sanders, Derrick Thomas and Deion Sanders. You may be wondering who was the guy drafted ahead of Sanders, Thomas, and Deion? Well, it was Tony Mandarich, a Hall of Fame athletic freak but certainly not a Hall of Fame football player. Mandarich was one of the most hyped up players in NFL Draft history. In the weeks leading up to the NFL Draft, Sports Illustrated coined Mandarich as "The Best Offensive Line Prospect Ever". He was a first-team All-American at Michigan State and many looked at him as being the biggest physical specimen in college football history.
This 6'6, 330 pound offensive lineman put up some of the most impressive numbers in NFL Combine history. He ran an official 4.65-second 40 time, faster than Jerry Rice and Emmit Smith did at their respective workouts. Bear in mind, Mandarich had well over 100 pounds on these guys. In addition, he bench-pressed 225 lbs. 39 times, had a 30" vertical leap and his broad jump was over 10 feet. At 330 lbs., this guy was 11% body fat. The Packers passed on three future Hall of Fame players for a guy who many deemed a true risk. In college, Mandarich was notorious for turning up to public meetings late, and even drunk. He also missed team meetings because he was too hungover. 2 weeks before draft day, he challenged then-heavyweight champion of the world, Mike Tyson, to a street fight. Unfortunately, he didn't have a nearly productive NFL career. He made only 47 starts in 10 years and proved to be one of the biggest draft busts in history. The question of steroid abuse has been discussed as a possible factor in his failures, in which he finally admitted to in 2008. Even though Mandarich didn't produce athletically on the playing field, he had the sheer potential to be among the best in his position, a true athletic monster. The 1980s was notorious for steroid-use in sports, especially pro football. Some football players and coaches believed that half of the players in the league used some type of performance enhancing drug at that time. Mandarich said he only did steroids in college and never in the NFL because the way he cheated would have never worked in the NFL. Imagine if he would have. He may of been the greatest of all time. However, he cleaned himself up and ultimately saved his life, something way more valuable and important.
---
#12 – Alexander Karelin
Alexander Karelin defines the word "freak". He was such a freak that people nicknamed him "The Experiment" implying that he wasn't a human being, that he was some sort of "scientific experiment". He is known to many as the most feared athlete ever and the toughest S.O.B. around. Karelin is a Russian super heavy weight Greco-Roman wrestler and many consider him the greatest of all time. He won gold medals at the 1988, 1992, and 1996 Olympic Games. He went undefeated in international competition spanning from 1987 to 2000. He was so good that he didn't give up a single point in the last six years of his undefeated streak. In the 2000 Sydney Olympics, American Rulon Gardner stunned the wrestling world and defeated Karelin for the Olympic gold medal to claim the biggest upset in sports history.
Karelin is 6'4 and wrestled at 289 lbs. The man was said to power clean and press over 420 lbs. He would do this move known as the "Karelin Lift" in which he would do a reverse lift and hoist his 300 lb. opponent into the air and slam them violently to the mat. This move was never done as a heavyweight before he came along, and his opponents feared getting thrown by him that they would surrender back points rather than attempt to fight off the throw. He was that good! Karelin made sure he would train harder than anyone. To prep for an opponent, he would rise, drink half a gallon of milk and then run through the Siberian forest. He would run for two hours in thigh-deep snow. He would say about his training, "I train every day of my life as they have never trained a day in theirs." Karelin once carried a refrigerator twice his bodyweight up eight flights of stairs. When it comes to dieting, he ate anything in site. He would sometimes eat nine slices of pizza and six large glasses of apple juice on a typical day.
---
#11 – Barry Sanders
Barry Sanders ran circles around NFL defenses. He may of been the only NFL player who could literally score a touchdown every single time he carried the football. Sanders was known as one of the greatest running backs to ever play the game. He averaged an unprecedented 1,500 rushing yards per season. At only age 30, he left the game 1,457 yards short of all-time rushing record. He played on a sub-par offensive line and had no viable quarterback. Teams would put enormous strain on Sanders because defenses would stack 8 or 9 defenders in the box to stop him. Yet, they couldn't do anything to stop him. He was just too quick and athletic for anyone to handle with his blazing 4.37 40 speed. It's hard to put into words how athletic this man was.
continue to next page for the top 10 most athletic freaks of all time