Most Jacked Athlete in Every Sport

Muscle Prodigy has gone one step further with it's top rankings and has compiled a list of the most jacked athlete in nearly every sport. We only considered athletes who are currently active in their sport or a just few years removed from competition. This list is very subjective and was determined based on our examination of muscular size, vascularity, leanness, proportionality, aesthetics, and rarity of body type. All of these factors contributed equally towards the order of this list.
---
Arm Wrestling
Denis Cyplenkov – 6'1, 308 lbs

In the world of professional arm wrestling, Denis Cyplenkov reigns supreme. Cyplenkov has forearms that measure just over 20 inches and massive biceps at 23.6 inches. His wrists measure at 9.5 inches thick, some of the biggest in the world. He was the 95kg+ 2010 Nemiroff World Cup of Arm Wrestling champion for both his right and left arm. He can bench press 290 kg (639 lbs.), squat 320 kg (705 lbs.), and deadlift 340 kg (749 lbs.). Cyplenkov is an absolute beast and could have a historically successful career in arm wrestling.
---
Australian Rules Football
Ben Cousins – 5'10, 172 lbs

The former midfielder for the Austalian Football League (AFL), Ben Cousins has been revered as one of the most talented athletes to play in the AFL. Cousins has put on dominant performances with the West Coast Eagles, scoring 218 goals in 270 games. In 2005, Ben won the prestigious Brownlow Medal which is awarded to the fairest and best player in the AFL. Despite his success, he was cut by the Eagles in 2007 for alleged drug use. He took a one year hiatus and then returned with the Richmond Tigers in 2009, only to call it quits in 2010. Even with a rocky personal life, there is no question that Cousins was one of the most talented and physically fit athletes in the AFL. Known for his explosive speed, Cousins trained with a variety of sprinting drills in addition to his devoted weight training program.
---
Badminton
Lin Dan – 5'10, 150 lbs

Chinese professional badminton player Lin Dan is widely considered the best badminton player of all time. By the young age of 28, he completed what is referred to as the Super Grand Slam – a title only received after winning all nine major world badminton tournaments. Dan solidified has dominance when he won the gold medal in badminton at the 2012 Summer Olympics in London. Aside from his impressive career statistics, Dan is also ridiculously fit. He is pure muscle and usually maintains a body fat percentage well under the coveted 10 percent mark. He is both limber and strong – a very desirable trait for a badminton player.
---
Baseball
Gabe Kappler – 6'2, 205 lbs

Former outfielder Gabe Kapler has a physique that even aspiring fitness models desire. In fact, he has appeared on various fitness magazine covers despite being a baseball player. Kapler stresses the importance of balanced nutrition as well as a solid training regimen. Whole eggs and almond butter are some of his favorite foods. He also puts a lot of effort into his pre and post workout routines. Kapler often does tons of flexibility exercises in his routine. Flexibility allows for injury prevention and this is why Kapler is one of the healthiest guys to play baseball professionally.
---
Basketball
Serge Ibaka – 6'10, 235 lbs

Even though NBA player Joey Graham is pretty jacked and can bench press 185 lbs. for 26 consecutive reps (an NBA combine record), Serge Ibaka has him beat. In the past few seasons, Serge Ibaka has established himself as one of the top defensive players in the NBA, specifically when it comes to his shot blocking. Not to mention, he's got the muscular physique unlike any other in the NBA today.
---
BMX
Dave Mirra – 5'9, 155 lbs

BMX riders may not be known for their dynamite, ripped physiques. Thankfully, Dave Mirra thwarts that notion. He is extremely lean, which proves to be a vital asset in the sport of BMX. Having as little weight as possible on your bike while still having the strength to perform tricks is crucial. A predominantly vert ramp and park rider, Mirra currently has 24 X-Game medals under his belt. Mirra favors the military press in the weight room because his shoulders used to frequently pop out of place on hard falls. With a more muscular frame, he has been less prone to injury over the years.
---
Bobsleigh
Lascelles Brown – 5'11, 220 lbs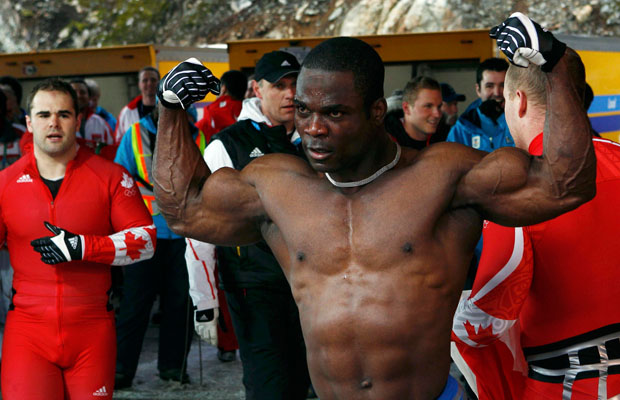 Lascelles Brown, the Jamaican-born Olympic medal winning bobsledder, is no stranger to the weight room. Brown's strength gains have paid off. As a brakeman, he won an Olympic silver medal in 2006 competing for Canada in the two-man event. He has also won the world two-man championship in 2005 and set an Olympic start record for Jamaica in 2002 with 4.78 seconds in the two-man event as Salt Lake City. Brown can squat 225 kg (496 lbs.), and can bench press 215 kg (474 lbs.).
---
Bodybuilding
Phil Heath – 5'9, 240 lbs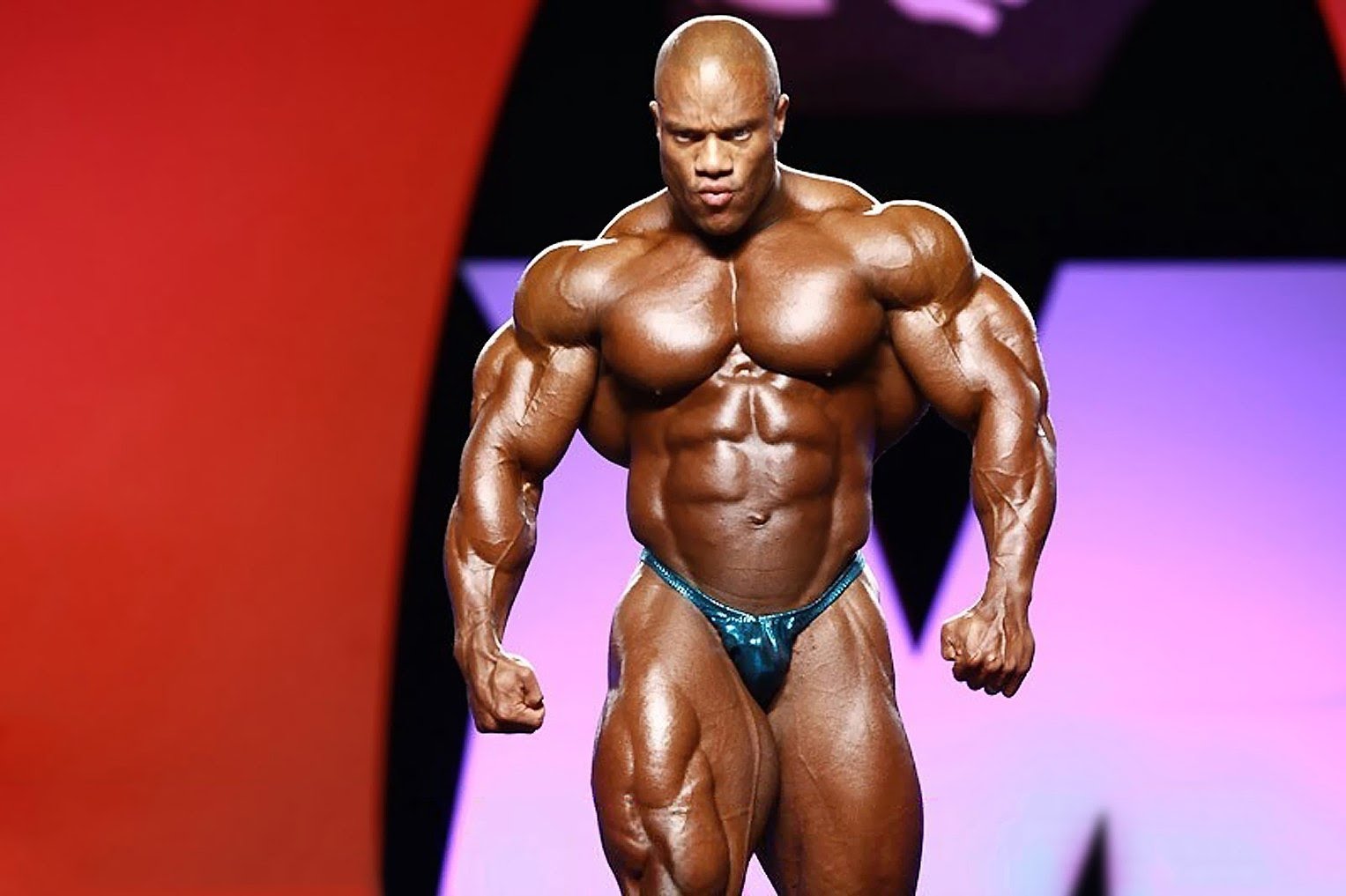 Phil Heath is the current Mr. Olympia after winning consecutive titles from 2011-2014. With 22.5 inch arms and a 54 inch chest, Heath has an astounding 29 inch waist. A former D-1 basketball player at the University of Denver, Heath learned the training and discipline necessary to become a bodybuilder. In the off-season, he weighs up to 275 pounds and then dramatically cuts his weight down 35 pounds to look as desirable as possible on the bodybuilding stage. Heath can bench press 225 lbs. for 46 reps.
---
Boxing
David Haye – 6'3, 213 lbs

British professional boxer and former WBA heavyweight champion David Haye is a gargantuan. To get in such pristine shape, Haye utilizes circuit workouts that incorporate both weighted exercises and dynamic exercises. Haye does 145 kg (320 lb.) bench press reps, 180 kg (397 lb.) squat reps, and favors chin-ups with a 45 kg (100 lb.) wrapped around his waist. As fight time grows nearer, Haye will engage in 50 minute runs and take blows to the stomach from medicine balls administered by his trainer. In the kitchen, Haye doesn't skimp on the protein. He eats 24 raw egg whites each day.
---
Cheerleading
Anna Watson

A cheerleader for the University of Georgia Bulldogs, Anna Watson was once an aspiring fitness model before heading to college. A sports science major, Watson has applied all she has learned in the classroom to her weight training routine. She bench presses 155 lbs., squats 225 lbs., and deadlifts 230 lbs. Watson was once on the brink of a $75,000 fitness modeling contract but called it off after the agency tried to pressure her into taking legal steroids. Thankfully, this cheerleader is all about building natural muscle.
---
Cricket
Shane Watson – 6'0, 205 lbs

Australian born Shane Watson is a cricket star who is in peak physical condition, known by many as a top cricket player in the world. Watson, who was actually regarded as too beefy and strong, was introduced to Pilates by a conditioning coach. The coach claimed that Watson's physique did not allow him enough flexibility and mobility, despite its pleasing aesthetic presentation. With a new Pilates workout, Watson has trimmed down but is now in control of his body.
---
CrossFit
Rich Froning – 5'10, 190 lbs

Rich Froning is a legend in CrossFit. He became the first person to win the title of "Fittest Man on Earth" four times with his first place finish in the 2011, 2012, 2013, and 2014 CrossFit Games. He only started doing CrossFit since 2009 and has taken off as a star ever since. He usually trains 2-3 times a day, doing CrossFit specific training, in which he does everything from skill sessions, interval training, efficiency and movement, all the way to strength at launch and more. Not only does he have some of the best endurance, but he packs some serious strength. Froning has a 525 lb. deadlift, 425 lb. squat, 335 lb. bench press, 335 lb. clean and jerk, and a 270 lb. snatch. In terms of his diet, he eats a lot of peanut butter and drinks a lot of whole milk. He doesn't really document how many calories he eats; instead, he tries to listen to his body.
---
Cycling
Robert Förstemann – 5'8, 198 lbs

Robert Förstemann is a German track cyclist specializing in the sprint disciplines and world champion in team sprint in 2010. This guy certainly has strong and massive legs. He can squat 220 kg (485 lbs.) for 8 reps.
---
Decathlon
Bryan Clay – 5'10, 180 lbs

Bryan Clay is the 2008 Olympic champion for the decathlon and was also world champion in 2005. He was tested by the SPARQ, which is a standardized test measuring athleticism. "SPARQ" is an acronym for Speed, Power, Agility, Reaction and Quickness. In the football test, Clay recorded a football score of 130.40, the highest ever recorded. By comparison, Reggie Bush scored a 93.38 on the test. Clay has a vertical leap of 45.3 inches, one of the highest no step vertical jumps in NBA/NFL history. He also ran the 30 yard sprint (distance from home plate to first base) faster than Jacoby Ellsbury, one of the fastest major league baseball players and had the same SPARQ rating in baseball as him. Clay performed all tests, and his other ratings were: SOCCER 96.50, BASEBALL 102.00, BASKETBALL 90.00, and ATHLETIC ASSESSMENT 145.00. His basketball SPARQ rating is the better than every professional basketball player including Derrick Rose, LeBron James, Kobe Bryant, and Dwayne Wade.
---
Discus Throw
Lawrence Okoye – 6'6, 302 lbs

This English discus thrower holds the British record for distance thrown with 68.24 meters (223.9 feet) and competed in the 2012 Olympics. He spends three days a week in the weight room with throwing practice after and three days throwing with plyometric and running exercises tossed in. In the weight room, Okoye focuses on Olympic lifts such as squats, cleans, deadlifts, and bench pressing. Okoye can bench press 210 kg (463 lbs.), and can squat 300 kg (661 lbs.). He is currently playing in the NFL for the San Francisco 49ers, showing that he is truly a two sport athlete.
---
Distance Running
Alan Webb – 5'9, 145 lbs

Distance runners aren't known for their bulging muscles. Alan Webb, the current American record holder for the mile (3:46:91), is an exception. He may have the lowest body fat percentage on this extensive list. Despite the notion that distance runners only train by running, Webb works out his upper body in order to build arm muscle. Having arm muscle as a runner is beneficial due to the constant swinging and chopping motions that the arms are put through in competition. Webb runs at least one 10-14 mile run a week for practice and includes short distance training into his workouts as well.
---
Diving
Qin Kai – 5'6, 143 lbs

The Chinese-born diver competed for his home country in the 2008 Summer Olympics. He took home the gold on the 3 meter synchronized springboard, and the bronze in the men's 3 meter springboard. Kai's light and toned frame allow him to dive into the water with ease, causing minimal splash, which racks up points from judges.
---
Fencing
Tim Morehouse – 6'2, 200 lbs

This American fencer is a 2X National Champion (in 2010 and 2011) and was ranked as the #1 U.S. men's saber fencer from 2008 until 2011. He won the silver medal in the 2008 Summer Olympics for saber fencing. Morehouse is a national spokesperson for Kid Fitness, a U.S. organization that looks to battle childhood obesity. In addition to fencing training, Tim works out with cross training methods that incorporate full body strength.
---
Football
Vernon Gholston – 6'3, 260 lbs

Earning the title as the most jacked football player is not an easy job. Vernon Gholston, the powerhouse defensive end, easily claims the title. In college at Ohio State, Gholston bench pressed a team-high 455 pounds and squatted 405 pounds for twenty reps. He also ran a 4:56 40-yard dash. At the NFL Combine, he bench pressed 225 pounds for 37 reps and had a vertical jump of 35.5 inches.
---
Golf
Camilo Villegas – 5'9, 160 lbs

Although golfers generally aren't popularized for their stellar physiques, Camilo Villegas is. The Columbian golfer who plays on the PGA tour and the European Tour is just 5% body fat. Villegas is a gym enthusiast and trains with weights, yoga, cardio, and pilates. Although there are many successful golfers who are out of shape, Villegas attributes his training program and dynamite physique to his success. He works his incredibly rippling abs to the core with an extreme version of sit-ups. For his seated cable crunches, he sits perched on a medicine ball with 90 pounds of cable weighted resistance and abuses his mid-section.
---
Gymnastics
Brandon Wynn – 5'6, 163 lbs

Brandon Wynn is one of two men in US history to grab an individual medal in Still Rings. He completed his competition at the 2013 World Artistic Gymnastics Championships and attained a Bronze Medal on Still Rings. Wynn is no stranger to working out. On an average day, Wynn does strength training and flexibility work in the morning for two hours and then continues with team training a few hours after lunch. His diet is composed mainly of brown rice, green leafy vegetables, lean meats, and oatmeal. He rarely uses weights to train for his workout routine. Instead, most of his routine is made up of bodyweight exercises and ring holds. Said his coach Blaine Wilson, "The front part of his shoulders is so big, his back goes forward."
---
Hockey
Zdeno Chara – 6'9, 255 lbs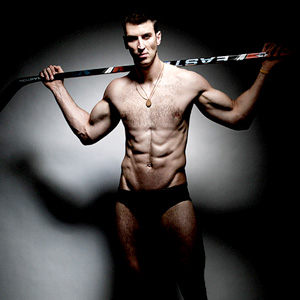 Slovak-born Zdeno Chara is the tallest player in the NHL and jacked beyond belief. Known for his discipline in the weight room and the kitchen, Chara sticks to lean meats, steamed vegetables, and low glycemic carbohydrates while abstaining from alcohol and and caffeine. He works out for 6-7 hours a day and utilizes cardio, weight training, agility training, speed skating drills, and conditioning exercises. Chara has performed 31 consecutive wide grip pull-ups at a Bruins' strength testing session. Chara's hard work has not only paid off in his on-ice performance, but also in his shredded physique.
---
Judo
Teddy Riner – 6'8, 306 lbs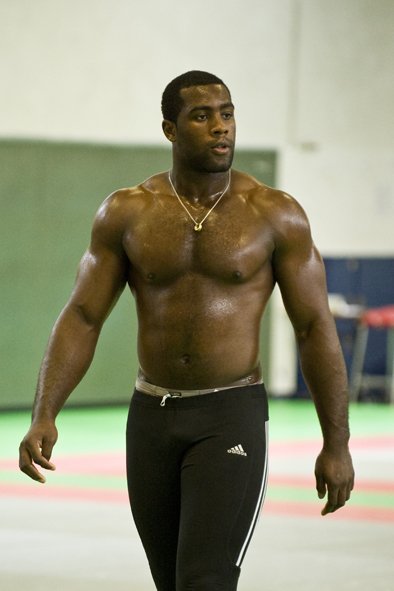 In 2007, at 18 years and 5 months of age, French-born Teddy Riner became the youngest Judo world champion. Since then, he has won seven world titles and an Olympic gold medal at the 2012 Summer Olympics in London. Reiner is extremely strong and can bench press up to 160 kg (352.7 lbs.). He was brought up around team sports, but always preferred individual sports. As a Judo athlete, he builds on his agility and grip strength in order to overpower and defeat opponents.
 continue to next page for remaining most jacked athletes in every sport