This 400 Pound Obese Model Makes a Living Off Eating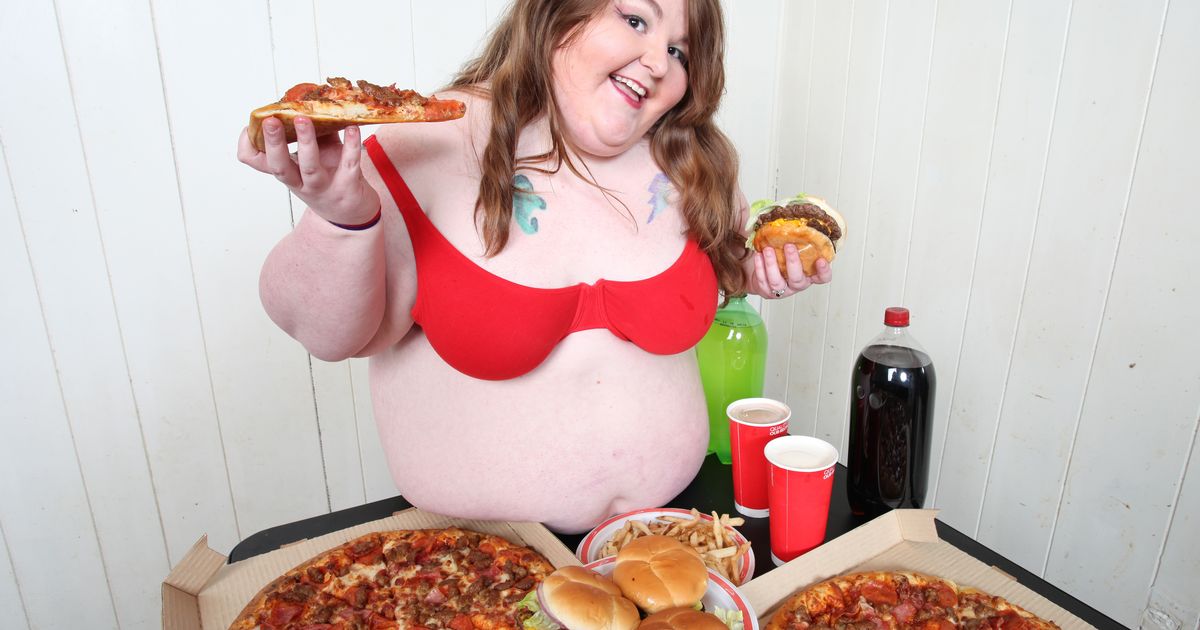 At only 22 years of age, Caitlin Finley weighs 400 pounds at under 5 feet tall. She has a BMI of 80 (the healthy range is 18-25) and a dress size of 24. She eats upwards of 10,000 calories in one sitting with the most fattening foods she can get her hands on. Instead of trying to lose the weight and get healthier, Caitlin wants to gain even more weight.
"I want to be 500 pounds by the time I'm 30," she admitted in an interview with Barcroft Media. "My long-term goal is to be as big as physically possible without being bed-bound. I don't care what anyone says, I love my career and it makes me happy."
This obese woman from Kentucky makes her living as a "super-size" webcam girl who earns around $140 a week. She loves and embraces her life as an obese feeding model.
"My specialty is to rub and shake my belly for the camera. Men love watching me jiggle … and can't get enough of my cellulite. Other men just like watching me eat and get full," she said.
Most parents would have a problem with a career choice like this one. Not Caitlin's mother. Her mother fully supports her and even acts as her photographer.
"I'm her mom and I'll support her whatever she wants to do," she said. "If this makes her happy, that's fine by me. I think she looks beautiful in the photos. I take some pictures and advise her on which photos to use."
Check out the video to see how Caitlin makes a living:
MP's Take: I'm very disgusted by this. Caitlin undoubtedly will suffer severe health problems as a result of her aspirations for being more and more obese. She is 50 points higher on the BMI scale than an average obese person. At the end of the day, all you have is your health. She could have all the money and fame from this (even though $140 a week is really nothing) but it's just going to give her serious problems at the end of the day. I wouldn't be surprised if this woman lives another 10 years before she suffers severe heart disease and various other health problems. It's quite sad and I hope she realizes what she is doing to herself. The video is quite disturbing and it really shows how out of touch she is with reality. What's probably most disturbing is that she may convince other women to start doing this as a way to make money and be somewhat famous. She seems to pride herself on being a role model for obese people but that is far from the case.