Top 50 Most Jacked NFL Players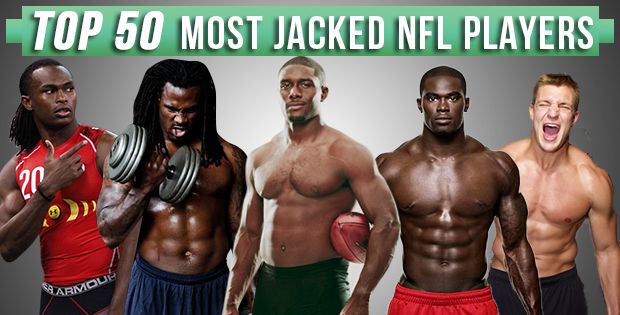 The 2015 NFL Season is finally here! Therefore, Muscle Prodigy is back with our updated list of the Top 50 Most Jacked NFL Football Players. We based this list on a combination of criteria including muscular size, vascularity, leanness, proportionality, aesthetics, and rarity of body type. We provide a picture that best demonstrates each football player's jacked and muscular physique with some impressive stats regarding his strength and workout feats.
Note: We only list current NFL players on a roster or an active free agent who played on a team last year. Height and weight measurements are from the NFL's website. All strength and workout stats are gathered from each player's NFL Combine or Pro Day results or from other credible sources.
---
#50 –
 Andre Johnson
WR, Indianapolis Colts
6'3, 230 lbs.
Feat of Strength: 4.35 sec. 40 time, 41″ vertical jump

---
#49 – Marshawn Lynch
RB, Seattle Seahawks
5'11, 215 lbs.
Feat of Strength: 355 lb. bench press, 485 lb. squat, 315 lb. power clean, 34" vertical, 4.46 40 time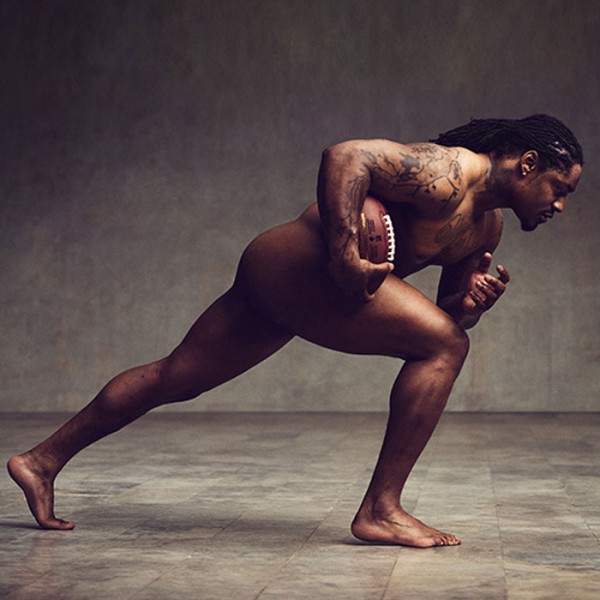 ---
#48 – JJ Watt
DE, Houston Texans
6'5, 289 lbs.
Feat of Strength: 34 reps of 225 lb. bench press, 700 lb. squat, 61" vertical box jump, consumes upwards of 9,000 calories daily

---
#47 – Larry Fitzgerald
WR, Arizona Cardinals
6'3, 218 lbs.
Feat of Strength: 405 lb. bench press, 4.47 sec. 40 time, 35" vertical jump

---
#46 – Tim Tebow
QB, Free Agent
6'3, 245 lbs.
Feat of Strength: 480 lb. bench press, 4.71 sec. 40 yard dash time, 38.5″ vertical jump

---
#45 – Terrell Suggs
LB, Baltimore Ravens
6'3, 265 lbs.
Feat of Strength: 19 reps of 225 lb. bench press, 4.8 sec. 40 time, 33" vertical jump

---
#44 – Cam Newton
QB, Carolina Panthers
6'5, 245 lbs.
Feat of Strength: 4.59 40 yard dash, 35" vertical leap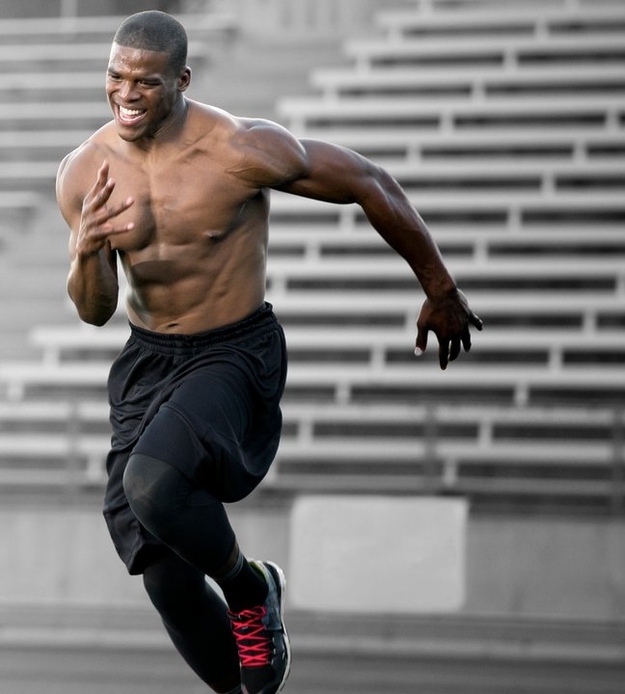 ---
#43 – Peyton Hillis
RB, NY Giants
6'2, 250 lbs.
Feat of Strength: 26 reps of 225 lb. bench press

---
#42 – Mario Williams
DE, Buffalo Bills
6'6, 292 lbs.
Feat of Strength: 35 reps of 225 lb. bench press, 40.5″ vertical jump, 4.7 sec. 40 time

---
#41 – Julio Jones
WR, Atlanta Falcons
6'3, 220 lbs.
Feat of Strength: 17 reps of 225 lb. bench press, 4.39 sec. 40 yard dash, 38.5″ vertical jump