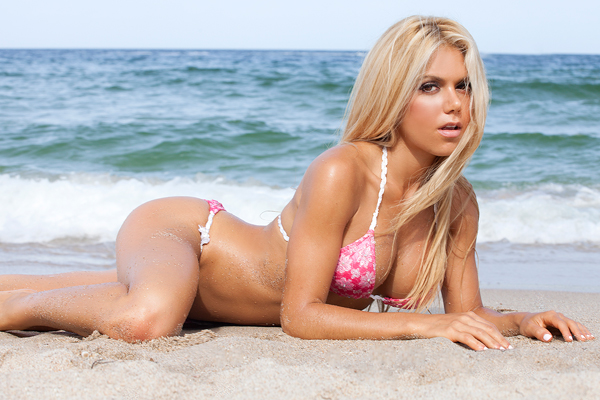 Chelsey Novak is a 22 year old fitness model and competitor from Miami, Florida.
Why did you decide to start working out?
CN: Growing up I was never athletic and I wasn't in shape. I started working out because I would see these hot chicks on the cover of magazines and I wanted to look exactly like them. After getting familiar with workouts and seeing my body change, it became an addiction.
What is your preferred workout routine?
CN: I like working out early in the morning because that's when I have the most energy. Thank you coffee! I'm a morning person so ideally I love getting everything done before noon.

 What is your preferred diet?
CN: To be honest, I love plain foods. All I need is mustard and I'm good to go. I pretty much eat the same foods everyday which is my lean proteins, complex carbs, and veggies. When I crave something sweet I usually snack on fruits such as apples or watermelons.
If you could pick only 3 exercises to do, what would they be and why?
CN: 1) Squats because not only do they make your glutes toned but they can actually help you improve both your upper and lower body strength. It's basically working out your entire body. 2) Planks because some ab exercises only target a certain area but with planks it hits your entire core. 3) Burpees. This exercise is very simple but yet a tough one. I love this exercise because it's a cardio workout and it tones your whole body as well.

What types of supplements do you take and recommend? What are the benefits of each?
CN: BCAAs and whey protein! I drink my BCAAs before and during my workout. BCAAs are beneficial to you because it helps you preserve lean muscle and supports recovery and repair. I drink whey protein immediately after my workout because taking in protein at that time will give my body the fuel it needs to heal and grow.
What is your favorite motivational quote?
CN: "If you always put limits on everything you do, physical or anything else, it will spread into your work and into your life. There are no limits. There are only plateaus; and you must not stay there, you must go beyond them."

What advice would you give for a fitness beginner?
CN: Every pro was once an amateur so never get discouraged because you aren't seeing results right away. People will always give you advice about their workouts and nutrition but that doesn't necessarily mean it will work for you. Get to know your own body and what works best for you.
Besides fitness, what are your other interests?
CN: Well, I'm from Miami so it's always sunny here, therefore I love the outdoors! Roller blading, going to the beach, and jetskiing are my weekend adventures. In addition, I love baking desserts!

What are your future goals both personally and professionally?
CN: My future goals personally is to get my pro card and motivate as many people as possible. Fitness is my passion and I love seeing others living a healthy lifestyle. I am currently in school for Physical Therapy so my professional goals is to open my own practice.
Instagram: @chelseynovak
Twitter: @chelseynovak
Facebook: www.facebook.com/chelseynovakfitness