Home
Sport-Specific
Sports Entertainment
The World's Most Jacked Athletes
The World's Most Jacked Athletes
Here is the list of the most jacked, ripped, cut, shredded, muscular athletes in any sport in the world (in no particular order). Being that this list is very subjective, we created a list based on a combination of criteria including muscular size, vascularity, leanness, proportionality, aesthetics, and rarity of body types. We supplied you with pictures so you can see more clearly why we chose one athlete over the other and who has a better physique in our eyes.
Check out our updated list of the Most Jacked Athletes in Every Sport
If you are an athlete and want to improve in your sport, you must follow a precise strength training, conditioning, and nutrition program. MP45 is a step-by-step athlete workout program that walks you through exactly what to do to excel as an athlete. This is the type of training and nutrition followed by many of the world's top professional athletes.

This product is not endorsed by any athlete featured on this page
---
Michael Ray Garvin
"Who the hell is this guy?" would be your first question. Signed by the Arizona Cardinals as an undrafted free agent in 2009 out of Florida State, known as one of the best special team players in the country, Michael Ray Garvin is now a wide receiver for the Las Vegas Locomotives of the United Football League. Garvin was also a seven-time All American sprinter and a member of the winning 4x100 relay team in the 2007 NCAA Outdoors. Garvin also nearly qualified for the Olympics placing in the semifinals of the Olympic Trials. I have never seen a guy that ripped, cut, shredded, lean, muscular, etc. Whatever terms you want to throw at him, he is definitely that guy...
---
Mariusz Pudzianowski

Mariusz Pudzianowski is a professional strongman and current MMA fighter. During his career as a strongman, Pudzianowski has won an unprecedented five World's Strongest Man titles and also has two runner up titles. Last year, he debuted in mixed martial arts with a current record of 2-1. This guy has to be one of the most muscular and strongest athlete in professional sports today.
---
Ben Cousins
Ben Cousins is an Australian Rules football player, best known for his successful 238-game careers with the West Coast Eagles. He is also notorious for his one year ban from the sport due to substance abuse and behavioral issues. Damn this guy is truly jacked, just look at those veiny arms!
---
Harry Aikines-Aryeetey
Harry Aikines-Aryeetey is a rising star in sprinting. He was the first athlete to win gold medals at both the 100 and 200 meter races at the World Youth Championships in 2005. The English sprinter may be best known for owning one of the most complete jacked physiques around.
---
Todd Duffee
Todd Duffee is a mixed martial arts fighter currently fighting for UFC. He has the fastest recorded knockout in UFC history at seven seconds. Duffee currently has a 6-1 career MMA record.
---
Tim Bradley
Tim Bradley, current WBO World Light Welterweight Champion, is one of the most cut boxers around. After recently defeating Luis Abregu, Bradley called out Manny Pacquiao telling him to "Come break down this wall." Good luck, Mr. Bradley
---
Imagine a 6'9 hockey player about to check you into the boards. Well that's what you get with Zdeno Chara, the tallest NHL hockey player to ever grace the ice. Chara is one of the toughest defenseman in the league, winning the Norris Trophy during the 2008-2009 season.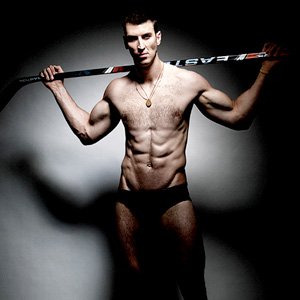 ---
Usain Bolt
Usain Bolt is perhaps the greatest sprinter ever. Bolt set world records at the 2008 Summer Olympics in Beijing in the 100 meter, 200 meter and 4x100 relay. Not only is Bolt the master of his craft but he has the prototypical sprinter's body.
---
Gabe Kappler
Gabe Kappler has had a solid big league career as MLB baseball player. Out of all the Opening Day rosters in 2009, Kappler was the lowest draft pick (57th round, 1,487 overall). Kappler is known as the "Hebrew Hammer", a reference to being one of the most jacked Jewish athletes around.
---
Rafael Nadal
Rafael Nadal, the new world's number one tennis player, is probably the most ripped tennis player around. The Spaniard is known for his cut arms and high fitness level. He has won 5 French Open titles and has solidified himself as one of the greatest clay court players ever.
---
Sean Sherk
Not many people would want to get in a cage and fight Sean Sherk. Perhaps one of the most jacked and fearless UFC fighters around, Sherk is also one of the more successful, posting a career MMA record of 33-4-1.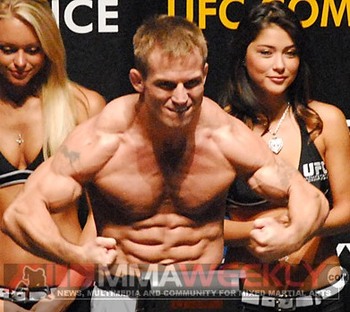 ---
Raj Bhavsar
Male gymnasts have to be put in the same conversation as sprinters and NFL players for most jacked physiques. Just look at Raj Bhavsar, an artistic gymnast, who earned a bronze medal at the 2008 Summer Olympics in Beijing.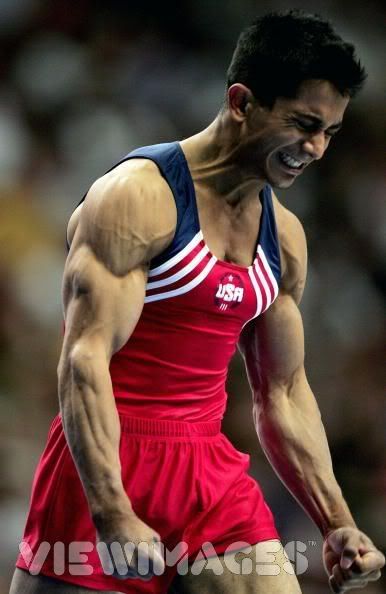 ---
Derek Porter
Derek Porter won gold at the 1992 Summer Olympics, leading his Canadian rowing team to victory over Romania by 0.14 seconds. He has numerous accomplishments in the sport of rowing and is known as one of the most muscular athletes in the sport.
---
Bobby Lashley
Bobby Lashley is an up and coming mixed martial arts fighter currently signed to Strikeforce. Lashley might be most recognizable as a former wrestling superstar, most notably in the WWE. Lashley is currently 5-0 in his MMA career.
---
Diego Forlan
Diego Forlan became a worldwide soccer sensation with his performance in the 2010 FIFA World Cup in South Africa. Scoring five goals in seven games, Forlan received the Golden Ball as the best player in the tournament to go with his other past achievements such as the Pichichi Trophy (most goals in a season scored in the Spanish Primera Division) and the European Golden Shoe (top goal scorer in a season in European leagues). Who knew the best player in the tournament was so ripped? He should have taken his shirt off and flexed after each goal; he certainly had the most chances to do so!
---
Luke O'Donnell
Luke O'Donnell is an Australian professional rugby player playing for the North Queensland Cowboys of the National Rugby League. This jacked up rugby player is one of the toughest in the sport. In 2003, he received an 11-week suspension for a late, high tackle that left an opponent with a broken jaw, making it the second longest suspension in the NRL's history. He received a 7-week suspension for two striking charges and for abusing an official. Just look at this guy's legs! Who would want to get in his way?
---
Micah Richards
Micah Richards is an English footballer that plays for Manchester City in the Premier League. He is a versatile defender, the youngest defender to ever be called up for England's national team.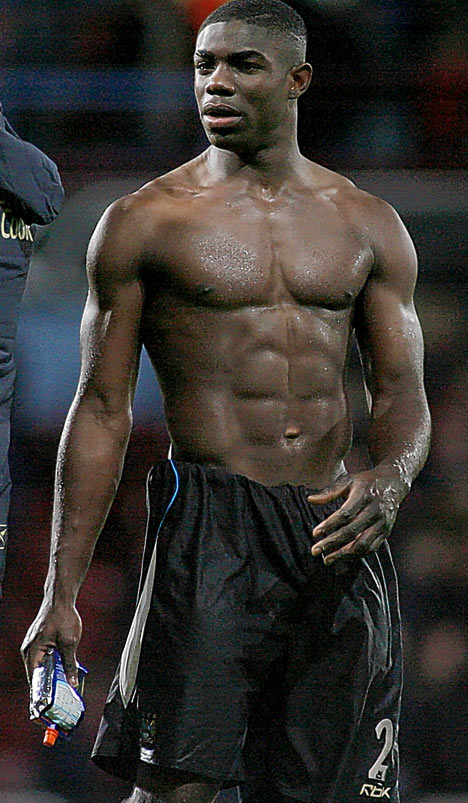 Check out our updated list of the Most Jacked Athletes in Every Sport
]
DISCLAIMER: The athletes on this page are not affiliated with MP45. This is not a paid endorsement. Muscle Prodigy LLC makes no claim that the celebrities and athletes featured on the site are promoting Muscle Prodigy or are users of the products mentioned throughout the website. Please read our Terms of Use.
Related Articles
Muscle Prodigy Products
Basic Information
Related Articles

Date Published : 2011-12-10 16:19:25
Written By : Richard Allen