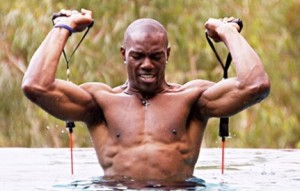 Terrell Owens workout training routine utilizes resistance bands to work on his speed and core training. The bands put less strain on his joints and gives a nice pump to his ripped body muscles.
During the season, the 6'3, 225 lb. Owens works out only a few times per week and nothing more so that he doesn't burn out his body on the football field with all those daily practices. During the off-season, he trains 4-5 times a week with high intensity and concentrates primarily on dumbbells and barbells, jump roping in between sets. Jump roping in between sets is a great way to get in that extra conditioning. Your body is even more tired when you hit the weights from all that jump roping. Your cardiovascular levels will increase and your testosterone and hormone levels may be elevated from doing so much more exercises of such high intensity. Owens can run a 4.4 40 yard dash time, which is a token to his natural speed and cardio training.
Quite possibly Owens' most astonishing feat is through his eating habits. He requires between 8,000-9,000 calories during training camp and 4,000-6,000 otherwise for his typical diet. Think about it…Owens burns thousands of calories a day during training camp, especially with the kind of hard worker he is. He needs to eat all those calories to keep his energy levels in check. Around eight to nine months of the year, he eats clean foods (no fried food or processed sugars) and eats every 3-4 hours, thereby increasing his metabolism and providing his body with a constant source of nutrients throughout the day. He relies mostly on lean protein sources like chicken, fish, and egg whites. He also focuses on complex carbohydrates like oatmeal, rice, and green vegetables. During the other three to four months, Owens is not as strict with his diet but consistently watches what he eats. His strict nutritional regimen is evident through his ripped six pack abs, probably the best in all of the NFL.
Source: Men's Fitness Magazine