Planet Fitness Could Be the Most Ridiculous Gym of All-Time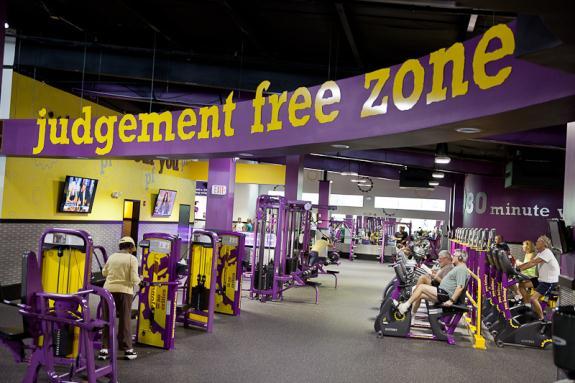 Over the past decade, Planet Fitness has gained vast popularity. Originally started in 1992 as a small operation in New Hampshire, Planet Fitness is now the fastest-growing gym chain in the United States with over 750 locations nationwide. The gym's 5 million members account for roughly 10% of the 50 million people in the U.S. who belong to a health club.
Co-founder and chief executive Chris Rondeau explained that most gyms cater to the roughly 15% of gym enthusiasts. Instead, Planet Fitness's goal is to attract the much larger percentage of people who want to be healthier but may only use the gym a few times a month.
"The rest of the industry is fighting over that 15%," he said in an interview featured on Business Insider. "We're going for the other 85%."
Planet Fitness has been successful with its strategy of appealing to the vast majority of gym goers, mixing fitness with fun and doing events like monthly pizza nights and bagel breakfast on the second Tuesday of the Month. It is estimated that the gym gives away 250,000 pizza slices each month.
If you ever been to a Planet Fitness, you'll see that the gym is covered in yellow and purple equipment, putting more of an emphasis on traditional machines and cardio than fitness classes. To keep costs down, the company does not have typical gym amenities like personal trainers and juice bars. Membership is extremely affordable at just $10 per month (plus a $20 startup fee), and many locations are open 24/7.
Besides being affordable, Planet Fitness is known for its non-competitive workout environment.
The gym enforces a strict rule system. There is no grunting allowed. Besides the no-grunt policy, there is also a policy of no bandannas, no jeans, and no banging weights. Planet Fitness believes this will make its target clientele of novice lifters feel more comfortable.
If someone breaks these rules, staff members can set off a loud siren called the "lunk alarm." This ear-rattling siren with flashing blue lights comes with a public scolding. The "lunk alarm," as the gym calls it, is so loud it can bring the entire floor to a standstill. (A lunk is defined, on a poster, as "one who grunts, drops weights, or judges.")
On some occasions, some of these aggressive lifters have been asked to leave and then escorted out by police.
Albert Argibay, a bodybuilder and a state correction officer, was at a Planet Fitness gym squatting 500 pounds. All of a sudden, the club manager told him to leave due to his grunting.
"I said to her, 'I'm not grunting, I'm breathing heavy,' " recalled Argibay. "I guess she didn't like the fact that I challenged her, because she said to me, 'Meet me up front; I'm canceling your membership.' "
He continued lifting, but soon was surrounded by town police officers, who escorted him from the gym.
Tim Gunther said he and his colleagues were frequently harassed for "making noises that can't be avoided" and compared the alarm to a nuclear war siren. "The first time I heard that thing it scared the heck out of me," he said. "I thought there was a fire, and I'm a fireman. Without exaggeration, I've seen them set that thing off on people just for breathing too loud."
Check out this video of all the ridiculous things that go on at Planet Fitness:
MP's Take: What's up with the grunting rule? A gym can't expect quietness. People grunt all the time. We should all take it as a sign that we are pushing ourselves to the utmost limits. Try squatting until you go to failure. You'll probably need to let out a loud grunt or two just to help you get the weight up. The "lunk alarm" has to be one of the most ridiculous things I've ever heard. People have compared it to a "nuclear war siren" so that should probably go. A public scolding from a gym staff member should be enough, if at all even acceptable. Nevertheless, you get what you pay for. There sometimes comes absurd rules for a $10 a month gym. There's a reason why the gym chain is popping up everywhere. The company is making tons of money, otherwise it wouldn't be expanding so rapidly. From a business standpoint, the company certainly knows what it's doing. It's exactly why Planet Fitness gives out pizza and not healthier food. The gym chain appeals to a larger target market and making tons of money doing so. People rather have pizza than healthy food, even if you workout. It's sad but true. At the end of the day, if you have a problem with Planet Fitness then just take your money elsewhere…although it may be hard to find a gym membership for less than $10 a month.
Source
http://www.businessinsider.com/free-pizza-propelled-planet-fitness-gym-growth-2014-3
http://www.nytimes.com/2006/11/18/nyregion/18grunt.html