Most Jacked NHL Hockey Players

This is part 1 of the most jacked, strongest, and muscular NHL hockey players. Not only are these guys built for performance on the ice, these guys could all rip your head off, if and when given the opportunity. Hockey requires an unparalleled amount of toughness and fitness. While most basketball players can play close to a full 48 minutes, you'd be hard-pressed to find one player in the league who can stay on the ice for half of a game because of the demands of sprinting on ice and the physicality that big hits come with. Hockey players need to have tremendous anaerobic and aerobic capacity with some of the best VO2 maxes and leg power of any athletes. These are some of the baddest men on the planet and their physiques only do some of the talking; their play on the ice and their fists as enforcers do the backing up. So this begs the question, is there a connection between physique and superiority? You bet it does. The more intense you train and the better you diet, the better your success in the rink. Check out the super cut up and ripped NHL body muscle right here with some of their workout and training routines provided.
Martin St. Louis
Right Wing, Tampa Bay Lightning
5'7, 180 lbs.
Even though St. Louis is one of the shortest players in the league at under 5'9, he has some of the strongest legs in the league; he is rumored to squat over 400 lbs. NHL's 2004 MVP claims that being so light makes him really fast only if he is one of the strongest guys pound for pound in the league. St. Louis works out with trainer Ben Prentiss at a facility in Darien, Conn. for only an hour a day, foru days a week, but those 60 minutes as more intense than you could ever imagine. The hour of training simulates a live hockey game, in which you get to rest between shifts, but when it's your turn, you better light it up.
Some of the exercises Martin St. Louis uses are Snatch Pulls as shown in the photo below. He starts out with 80 pounds on a barbell plus two 27 1/2 pound metal chains to add varying resistance. He does three reps for six sets, adding 25 pounds each set to move up to a total of 260 lbs. in his last set, making Martin St. Louis one strong bastard. This exercise works his hamstrings, glutes, lower back, and quads, which are all crucial for skating speed.

St. Louis also performs rhythm squats in which he alternates beween 10 squats and 10 heel raises for 50 total reps. He starts out with 185 pounds on his back and does 5 sets, adding 20 pounds each time to go up to a total of 265 lbs. where he does upwards of 30 reps with it before ever putting the bar back on the rack. This is tremendous for leg power, ankle flexion, and building up his anaerobic and aerobic capacity.
Another great exercise he performs is called Hurdles and Box. St. Louis sets up two 24 inch high hurdles with a 20 inch high box two feet beyond each hurdle. He jumps and clears each hurdle without any pause between jumps. As soon as he lands, he explosively powers up over the next box with minimal ground contact. He does 4 sets and raises each hurdle 3 inches each set, working up to a total of 33″ and 29″, respectively on his last set. This exercise is great for enhancing leg power because the leg muscles are stretched and contracted quickly.
Zdeno Chara
Defenseman, Boston Bruins
6'9″, 255 lbs.
Imagine a near 7 foot hockey player whose tough as nails check you into the boards. Well that's what you get with Zdeno Chara, the tallest NHL hockey player to ever grace the ice. Chara is one of the toughest defenseman in the league, winning the Norris Trophy during the 2008-2009 season. Zdeno Chara is also one of the strongest NHL players. At the Bruins strength testing session, he did 31 consecutive wide grip pullups.Chara is known around the league as a workout fanatic. "He is the most driven person I have ever seen to be the best," his agent, Matt Keator, says. Chara is known for his discipline, and especially when it comes to his nutritional habits. He like his meats lean (ideally, rabbit), his potato baked (without any salt, butter, or sour cream), and his veggies steamed (no dressing). He will rarely, if ever, have alcohol (when he does it' only one glass of red wine, and will only put caffeine into his body once every three weeks with one cup of cappucino. Chara is also a big cycling fan and uses it as an additional tool to work out for 4, 5 hours at a clip when entering a race. He also partakes in Greco-Roman wrestling and the martial art of aikido and has sinc ebeen dubbed as the most feared fighter in the NHL. Chara says, "No one likes to fight, really, but I understand there are times you have to do it — to stick up for yourself, a teammate, or change the rhythm of a game" .
Zdeno Chara has built up the reputation fo being the hardest worker in the NH and a lot of that came from his father, who happened to be an Olympic Greco-Roman wrestler for 11 years. Zdeno says, "My father would say, 'If you do something, do it right. Don't do it halfway. Don't be average.' No one gave me much of a chance because of my height, but my dad told me, 'If I could master the basics of gymnastics and acrobatics, I could master hockey as well, because it's all about being mobile, being able to make use of my explosive power in combination with my height.'" So what does a day in the life of Zdeno Chara look like? Well he wakes up, has a big breakfast, and then immediately goes to his first of four workouts. Every workout day is different, specifically designed by his trainers to kep him interested and motivated. Chara puts in 6-7 hours of training a day, which consists of cardio, weight training, agility exercises, hockey techniques, speed skating drills, film work, and conditioning exercises.
Even after games, Chara will work out for an extra hour or two, working until well beyond midnight and keeping his fiancee in the wives' room waiting for him to finish. Former teammate Marian Hossa of the Ottawa Senators said this about Big Z, "When he arrived in Ottawa, it was work, work, work. No one worked harder than 'Z.' He would run up steps in buildings, lift weights, mountain bike — all to build up strength. But his footwork got better and better with all of the lateral stops and starts, quick-twitch exercises he did. Now, he's a contender for the Norris Trophy each year." Should it then come as a surprise to you that he's the Captain of the team that's in the Stanley Cup Finals? That's a rhetorical no
.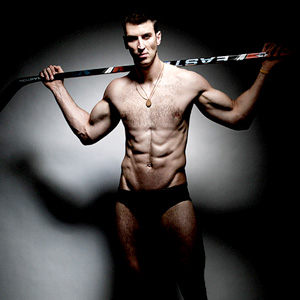 Chris Chelios
Retired Defenseman, Detroit Red Wings
5'11", 195 lbs.
Chris Chelios is the 2nd oldest player to ever suit up in NHL gear, playing into his late 40's and he still is in fantastic shape to this day. He appeared in the playoffs 24 times showing his dominance on the defensive end to get his team to the promised land every year. The 3x Defenseman of the Year trained with trainer NHL transformer T.R. Goodman, who trains over 25 NHL players. Goodman is a big believer of periodization, in which he never does the same workout day after day. Instead, he incorporates muscular endurance, muscular strength, and high performance adding lots of variety to his workouts to keep him motivated. Goodman focuses on ability and strength, not being concerned with aesthetics (although, it hasn't made his body appeal suffer one bit from the looks of it), Chelios trained for playing ability.
Goodman helped Chris with muscular imbalances, muscular weaknesses, balance, coordination, and chronic pain by including strength training, conditioning, and flexibility exercises breaking the routine up into three phases as dictated by AskMen. Regardless of the phase, each workout would last between 1.5 and 2.5 hours.
Muscular Endurance Phase:
Chelios built the "base" during this phase, before the more advanced high-performance training protocols were applied. He would perform reps between 15 and 25 reps to help the muscles adapt to creating a force output for a greater length of time and helps reduce the amount of fatigue experienced. He would rest approximately 30 seconds in between sets to allow his muscles enough time to recover, but keep his heart rate high to build general overall conditioning and endurance. The exercises performed during this phase typically included squats, leg extensions, leg curls, lunges, pull-ups. and bent-over rows.
Strength Phase:
This is the pahse where Chelios concentrated solely on building strength. He would work within the 6-8 rep range for each muscle group and placed a large emphasis on building core and abdominal strength. One caveat to notice here though is that T.R. was always mindful of form and never sacrificed it to put more weight on. He would focus on big compound movements here like squats, deadlifts, bench press, military dumbbell press, snatches, and a lot of free weight movements that incorporated several muscle groups.
Here is an example of one strength-based workout that Chelios was put through on a hot summer day: 60 minutes, no rest between sets, and a heavy emphasis on correct form. He did seven exercises, repeated continuously in sequence until the hour was over.

JUMP ROPE 50 times

ONE-ARMED DUMBBELL ROW with 45 pounds- 8 reps each arm

DUMBBELL DEADLIFT with 35 pound dumbbells- 8 reps

CLOSE-GRIP PRESS with 90 pounds- 8 reps

DUMBBELL PRESS with 45 pound dumbbells- 8 reps

SINGLE LEG LUNGE with 20 pound dumbbells- 8 reps

LATERAL RAISES with 20 pound dumbbells – 8 reps
High-Performance Phase:
This is the phase where everything was tied together: strength and endurance with an emphasis on explosiveness, agility, and speed. This portion consisted of a lot of workouts based on coordination. Chelios would work out 6 days a week and this phase often included biking in the sauna, but the bulk of the program consisted of much more dynamic plyometric drills such as jump squats, clap push-ups, lateral bounds, and exercises on the stability ball, BOSU balls, beams, and cable pulleys.
Rod Brind'Amour
Retired Center, Carolina Hurricanes
6'1″, 205 lbs.
Rod Brind'Amour has been often noted as being a freak of nature who possessed one of the best phsiques in all of sports, and especially for a man his age. Brind 'Amour played with more intensity than anyone in the NHL and was the difference maker in leading the Hurricanes to their first Stanley Cup Championship in 2006. Brind'Amour has legendary workouts and is often called the bionic player for never getting tired; he nearly led the league in average minutes played as a center, a statistic dominated by defensemen. He has extreme committment to physical training, doing it ever since he was 12 years old and has been hooked ever since. He even got locked out of the gym at Michigan State for working out too much. The offseason is especially where Brind'Amour makes his strides and during the season is more of a maintain status quo type mantra. Brind'Amour often does a routine of periodization in which he does a "Get Big" Hypertrophy training phase for 4 weeks followed by a "Get Strong" Maximal Strength training phase for 6 weeks, and then a "Get Fast" Power training for 4 weeks. This type of variation keeps his body guessing and allows him to enhance all aspects of his performance abilities.
During his latter years, Brind'Amour focused less on weights and more on conditioning and cardio. "Everybody looks for the secret, but it's just hard work. I've not found the fountain of youth, but I'm all ears if someone has", says Brind'Amour. "In talking to trainers in various sports, I'd suggest that Rod's fitness level and dedication would rival any athlete in any pro sport," Peter Friesen, the Hurricanes' strength and conditioning coach, said. "Usually, someone's really strong, they have great endurance or good flexibility, but not in one parcel. Rod has the whole package. I don't see many people who have his drive and desire, day in and day out. He approaches his workout with the same tenacity, whether he's healthy or injured."

Martin LaPointe
Retired Right Wingman, Detroit Red Wings
5'11", 215 lbs.
Martin Lapointe played for several teams during his 17 year tenure before retiring in 2008. Lapointe was known for his overall toughness suiting up for nearly every game during his career. He was acquired by multiple teams for his grit, toughness, leadership, and physical play. He was the enforcer of the Red Wings squad for years with one of the most feared right hands in the league. Lapointe is rumored to have done the 225 lb. bench press for over 30 reps.
Jaromir Jagr
Retired Winger, Pittsburgh Penguins
6'3″, 242 lbs.
The two time Stanley Cup champion, 5x Art Ross Trophy winner (NHL's leading scorer), 3x Lester B. Pearson winner (League's outstanding player), and Hart Trophy winner (League's MVP) is a fitness fiend and his skating on the ice since he was 3 years old. It is rumored that Jagr did over 1,000 squats daily with a ridiculous amount of weight on his back and had an extremely low bodyfat at around 5% even at over 240 pounds. Leaving the NHL a couple of years ago, Jagr now plays in the KHL. He said that he needed a break from the pressures of an 82 game season that the NHL demands, but many around him claim that he is training harder than ever, indicated by him losing 15 pounds since his last stint with the New York Rangers.

Georges Laraque
Retired Right Wing, Montreal Canadiens
6'3″, 273 lbs.
Often mistaken for a football defensive end (partly because of his size and the color of his skin in a predominantly white sport), Georges Laraque is nothing short of a beast. 6 foot 3, nearly 275 pounds, and ripped, this guy was a matchup nightmare for opposing teams. He forged a reputation as one of the most feared fighters in the NHL. Laraque has been known to have a crazy workout regimen months leading up the season and during it, however once the season finishes, he baloons up to about 300 pounds after he takes several weeks off from training to clear his mind and give his body a rest. Neverthless, when it's time to work, Laraque pushes his body to the limit.
During the offseason he tries to get down to a rock solid 260 pounds by working out 5 days a week with personal trainer SImon Bennett. Laraque does 90 minutes of weight training during these sessions followed by a cardio session immediately after. He mainly focuses on hockey's two most important muscle groups during his strength training workouts: the legs and abs with a combination of aerobic exercises. "Hockey's an aerobic sport," he says, and he often explains that he doesn't waste time on bodybuilding-type lifts such as bench presses and biceps curls because they don't translate into an on-ice advantage. As for his cardio routine, he does stair-climbing, running, or cycling outside as soon as he is done with the weights. This is the best time to do cardio to burn fat since your glycogen levels are depleted and your body bypasses the process of cutting into those stores before using bodyfat as its main source of energy. Laraque also trains three times a week with a boxer and dabbles in yoga regularly to keep himself limber and flexible to stave off injuries.
To fuel all the exercise, Laraque eats a balanced diet composed stirctly of organic food. He does his own grocery shopping at Planet Organic Market and makes sure to cut back his calories during his strict summer regimen. He makes sure he gets a ton of nutrients though, but most certainly stays away from white rice, pasta, and bread". "White flour, when you want to lose weight, is the worst thing for you," he explains.
Before the game, Laraque has quite the routine. He shows up four hours before the game so he can have some "alone time". He meditats and prays before every game. He then does some boxing with his trainer to warm him up. Check out his warmup and running videos below.


Raitis Ivanans
Left Wing, Calgary Flames
6'4″, 240 lbs.
Ivanans, while not a skilled forward (holding the NHL record for most games played in a season without recording a single point- 61), is a brute enforcer. He will lead any team he plays for in penalty minutes and is ready to drop his gloves down anytime, anywhere. However, that may have led to his demise as a hockey player because he is now suffering from post-concussion syndrome after he suffered from a debilitating concussion during a third period fight with Oilers' heavyweight Steve MacIntyre in the season opener.

Tyler Seguin
Center, Boston Bruins
6'1″, 185 lbs.
This young kid doesn't look like much, but Tyler Seguin is known around the league as The Phenom, often being compared to Tampa Bay's star forward Steven Stamkos. His dedication towards hockey and working hard has certainly paid off and is the first teenager to score 4 points in a NHL playoff game since 1989. Seguin is known for packing on a lot of muscle mass since he first entered the league and has worked endlessly with trainers in the gym to bulk up the once-scrawny frame. Seguin finished #1 by Central Scouting in the final rankings of the 2010 fitness rankings for NHL prospects and will be a stud in this league for years to come so long as the hard work and dedication to be the best continues.

Trevor Timmins
Montreal Canadiens Head Scout
Even though he's not a player, we have to put him on here just because he's affiliated with hockey and he's insanely jacked. Timmins is the director of player development and is in charge of the entry draft and the summer development program. Timmins is on the road traveling about 5-6 days a week and no matter where he is always looks to find a gym stating in an interview "He gets the yellow pages out and finds a gym to train at". He says tha it helps with the stress and he always tries to stay in top shape. Timmins says that it's all about willpower in terms of his diet. Even on the road and going to restaurants, the temptation to order fatty foods is there, but he'll usually always order the basics stating they'll make whatever you want, you just need to order it. He usually sticks with a lean protein like grilled chicken breast or grilled salmon with broccoli and a baked potato. It's just about willpower and taking the effort to go out of your way to make it work he says.

Alexei Kovalev
Right Wing, Pittsburgh Penguins
6'1″, 225 lbs.
Alexei "Alex" Kovalev is best known for his superior stickhandling skills, dangling, and his wrist shot and will always be known for his big role in the 1994 New York Rangers Stanley Cup run. Kovalev works out 5 days a week, alternating between indoor and outdoor training. He does a routine that works on building up strength and cardiovascular conditioning to become a totally-conditioned athlete. Kovalev is known to use exercise bands. "With the bands you actually have to balance before you lift or pull it, so that strengthens your ligaments and your muscles," says Kovalev. Strengthening ligaments therefore helps resistance to wear and tear, and training with bands also reduces the risk of self-injury from overloaded bar lifts, Moreover, the bands help with other aspects that allow him to be such a successful hockey player. "When you skate, you're not thinking about it, but it trains your coordination, it trains your strength and balance". Increased body control means more quickness when an athlete needs it most, and the full-body workouts that Alexei Kovalev does arebuilt around a simple idea of training for performance, not aesthetics.

Jarome Iginla
Right Wing, Calgary Flames
5'11", 255 lbs.
Jarome Iginla has an explosive workout routine that provides him with incredible speed, agility, and not to mention, true muscle strength and a ripped body. Iginla has a tremendous work ethic and at 6'1″ and 210 lbs., this big hockey captain from the Calgary Flames of the NHL works hard on and off the ice.
You can always appreciate a skater who can score and be willing to throw down with his fists when tested. That player is Jarome Iginla who is so gifted he has carried the Flames on his back for several years. The only way Iginla is capable of doing this is because he puts in the work in the off-season. Just take a look.
Calgary Flames' strength and conditioning coach, Rich Hesketh, designs a two-hour program for Jarome, where Iginla focuses on maximum output at short bursts. During the summer, Iginla works his off-season training as if it were a 9-5 job, Monday to Friday, weekends off. "Some people don't take weekends off," says Iginla, "I find I need it. It's a mental break." Remember, this is his off-season, when his competition is vacationing in the Caribbean Isles.
Monday– AM-Sprints; Afternoon- Heavy Lifting
"Monday is a workday for me," he begins. "That's my speed day where I'll sprint. I'll have different variations during the summer, from ten yards to sixty, and then l'll change it up and cycle or whatever. Then after my sprints on Monday would be my lifts—my heavy lifts. Those are together: sprints then lifts."
Tuesday– Tempo day- Ab work; Cardio
"Tuesday is my tempo day, where I am recovering, where I do some abs, a lot of abs, and some sort of cardio, but not too hard cardio, within seventy-five per cent."
Wednesday- Yoga
I find that [yoga has] helped me to listen to my body more," says Iginla. "Some days I can't push; some days it's not good to push. Some days my knee's a little sore. Now I listen, you know. It's better to be healthy than to push into injury. I think it's been a really good balance, and it helps me to ease up sometimes."
Thursday- AM-Sprints; Afternoon- Heavy Lifting
Friday- Tempo day- Ab work; Cardio
Saturday, Sunday- Off