Amber Dawn Fokken Interview

Amber Dawn Fokken is a full time personal trainer, nutrition/prep coach, posing instructor, endorsed athlete and fitness model. She has competed in NPC competitions and finished 2nd at the NPC Jr. Nationals in 2013.
Why did you decide to start working out?
AF: I fell in love with fitness in 2009 after I won the overall in bikini at my very first NPC show. I had a background in pageants and modeling, yet never realized my love for lifting weights and living a truly "clean" lifestyle until I began competing. The decision to compete was 100% driven from my older brother, Aaron Orton, owner of Genuine Fitness in Eugene, Oregon. He pushed me to enter a show because he saw potential in me I would have never seen. So I give a lot of the credit to him for believing in me even back then.
Previous to competing, I received conjoining degrees at the University of Oregon in Economics and Business Administration with a focus in Finance and was a first time home owner at the age of 19. My career direction drastically changed when I realized my strong passion for the fitness and health industry and have since then made it my everyday life as a full time personal trainer, nutrition/prep coach, posing instructor, endorsed athlete and fitness model.
What is your training routine like?
AF:
Monday: Glute focused Leg Day
Tuesday: Shoulders
Wednesday: Arms
Thursday: Back & Chest
Friday: Abs & Lower Body/Plyo Day
Saturday: Rest Day
Sunday: Lift whatever isn't sore from the week
Practically all my lifts are focused on 3-4 sets of 6-10 different exercises at 12-15 reps each. I will add in at least 3 HIIT sessions and 2-3 longer duration (40-60 min) LISS sessions to this split typically. My cardio will change based on if I am getting ready for an event, photoshoot, or show. I just recently started implementing more yoga into my schedule as well.

What is your preferred diet?
AF: I use more of a flexible dieting/IIFYM approach so my nutrition never stays the same, but below is a basic breakdown of what some days may look like. I use IconMeals meal prep service as it is a great, affordable, and efficient way to have meals pre-made and freshly delivered each week as well.
Meal 1: 1/2c MyOatmeal Oats + 3 egg whites/1 whole omega 3 egg (I often times combine these ingredients to make protein pancakes or waffles) but if on the go I will eat the IconMeals pre-made protein pancakes
Meal 2: 4 egg whites, spinach, mushrooms, tomato, hot sauce scramble or omelette with ezekiel english muffin or a ThinSlim Foods bagel (post-lift)
Meal 3: 4oz. grilled chicken and asparagus from IconMeals
Meal 4: 4oz. buffalo, 4oz. mashed sweet potato, and broccoli from IconMeals
Meal 5: 4oz. grilled chicken or 99% lean ground turkey and greens from IconMeals
Meal 6: Low carb protein waffles (recipe on my blog!) with 1tbs Crazy Richards nut butter
What is your favorite motivational quote?
AF: "If your not struggling you're not progressing." One of my very favorite quotes.
Understanding that progress is not overnight and it all comes down to consistency is key on those hard days. People tend to think if they don't see results nothing is happening and they give up. This drives me crazy. What is giving up going to do anyways? Put you back to where you started? It makes no sense. If something feels hard that is typically your body changing, and that is GOOD. In all aspects of life you have to struggle to progress. Even I have my days in prep where it feel impossible and I dont see the changes I wish I did. But the only difference between me and the person who never reaches those goals is I just keep going. I have to constantly remind myself of this because this sport is so much more of a mental battle than anything.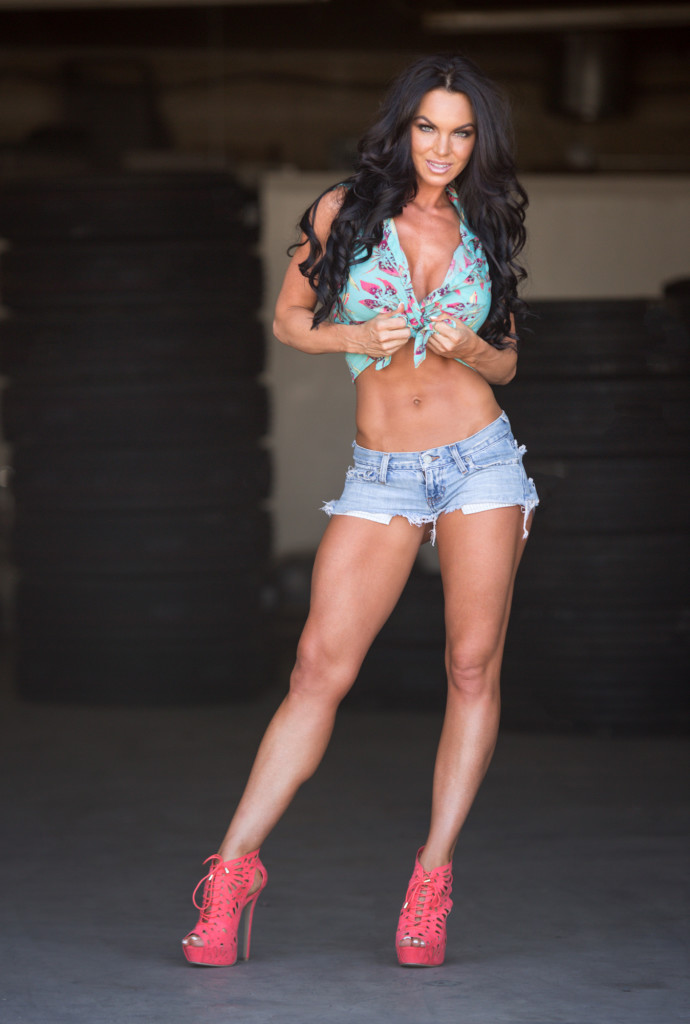 What is your proudest fitness accomplishment to date?
AF: I would probably say missing my pro card by one point in 2013. That was a pretty big deal to me. But I am glad I did because I met my husband that day and if I would have went pro things may have never worked out the way they did, haha. Also, landing the cover of Ironman Magazine last year with my husband and shooting for a layout in Oxygen and being in my favorite magazines such as FitnessRX, Shape, Muscular Development, etc. have definitely been rewarding too. I never thought I would see myself in such magazines, so that is something I am proud of.
What advice would you give for a fitness beginner?
Hydrate: Aim for a gallon of water a day! It's so important to stay hydrated and most people don't even realize when they are dehydrated.
Sleep: Get enough sleep and don't "sweat" the small stuff. Stress is such a terrible and draining emotion for the body. When you can learn to manage your stress levels, everything else will fall into place easier.
Make a plan: If you don't have a plan on how you will achieve your goals then you will never know which steps to take to achieving them. Start NOW. Write it down. Envision it. Go for it. And don't give up!

Besides fitness, what are your other interests?
AF: Outside of fitness, I love to cook and travel. Also, I LOVE real estate and have owned my own home since I was 18. I currently own two homes and would like to purchase more. I also love animals, riding horses, snowboarding, playing soccer, and staying active in general. I love to write and spend time with my husband as much as I can.
What are your future goals both personally and professionally?
AF: I recently was married and am focused on building my online training business alongside my husband, Brandan Fokken, and with his business and growing team. We have some exciting projects in the works that keep us very busy! I would love to eventually write a book, publish a recipe prep book, continue to develop my website, and of course start a family of my own. I am excited to be a mom and implement a healthy lifestyle and training program while being pregnant and having children as well.

Instagram: @mishkadawn
Twitter: @amberdawnorton
Website: amberdawnorton.com