Home
Sport-Specific
Celebrity Pro Athlete Workouts
Zdeno Chara Workout
Zdeno Chara Workout

Zdeno Chara
Defenseman, Boston Bruins

6'9", 255 lbs.
Imagine a near 7 foot hockey player whose tough as nails check you into the boards. Well that's what you get with Zdeno Chara, the tallest NHL hockey player to ever grace the ice. Chara is one of the toughest defenseman in the league, winning the Norris Trophy during the 2008-2009 season. Zdeno Chara is also one of the strongest NHL players. At the Bruins strength testing session, he did 31 consecutive wide grip pullups. Chara is known around the league as a workout fanatic. "He is the most driven person I have ever seen to be the best," his agent, Matt Keator, says.
Chara is known for his discipline, and especially when it comes to his nutritional habits. He like his meats lean (ideally, rabbit), his potato baked (without any salt, butter, or sour cream), and his veggies steamed (no dressing). He will rarely, if ever, have alcohol (when he does it' only one glass of red wine, and will only put caffeine into his body once every three weeks with one cup of cappucino.) Optimal nutrition is essential for peak athletic performance. Chara has a very strict diet regimen and this will only help him in the long run succeed in his sport. Alcohol can lead to dehydration and decreased levels of testosterone, among other problems. Chara is smart to stay away from alcohol, especially during the season.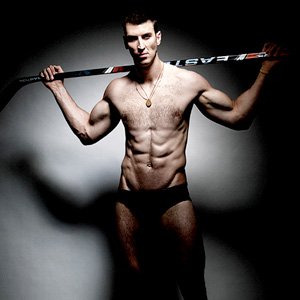 Chara's lean and ripped body can be attributed to his strict eating
and training regimen. At 6'9, it is extremely difficult to look as lean as him
but his healthy lifestyle speaks volumes on the way he looks.
Chara is also a big cycling fan and uses it as an additional tool to work out for 4, 5 hours at a clip. Cycling puts additional emphasis on the legs and really builds a very strong and durable lower body. He also partakes in Greco-Roman wrestling and the martial art of aikido and has since been dubbed as the most feared fighter in the NHL. Chara says, "No one likes to fight, really, but I understand there are times you have to do it -- to stick up for yourself, a teammate, or change the rhythm of a game".

If you are an athlete and want to improve in your sport, you must follow a precise strength training, conditioning, and nutrition program. MP45 is a step-by-step athlete workout program that walks you through exactly what to do to excel as an athlete. This is the type of training and nutrition followed by many of the world's top professional athletes.

This product is not endorsed by any athlete featured on this page
Zdeno Chara has built up the reputation of being the hardest worker in the NHL and a lot of that came from his father, who happened to be an Olympic Greco-Roman wrestler for 11 years. Zdeno says, "My father would say, 'If you do something, do it right. Don't do it halfway. Don't be average.' No one gave me much of a chance because of my height, but my dad told me, 'If I could master the basics of gymnastics and acrobatics, I could master hockey as well, because it's all about being mobile, being able to make use of my explosive power in combination with my height.'" Having a role-model like this only added to Chara's success.
So what does a day in the life of Zdeno Chara look like? Well he wakes up, has a big breakfast, and then immediately goes to his first of four workouts. Every workout day is different, specifically designed by his trainers to keep him interested and motivated. Consistenty changing up your workouts is a great way to prevent muscular adaptation, in addition to keeping things more interesting. You never want your body to adapt and stop making progress (known as the Principle of Variation). It's important to constantly change around your workouts and Chara does just that.
Chara puts in 6-7 hours of training a day, which consists of cardio, weight training, agility exercises, hockey techniques, speed skating drills, film work, and conditioning exercises. Even after games, Chara will work out for an extra hour or two, working until well beyond midnight and keeping his fiancee in the wives' room waiting for him to finish. Former teammate Marian Hossa of the Ottawa Senators said this about Big Z to NHL.com, "When he arrived in Ottawa, it was work, work, work. No one worked harder than 'Z.' He would run up steps in buildings, lift weights, mountain bike -- all to build up strength. But his footwork got better and better with all of the lateral stops and starts, quick-twitch exercises he did. Now, he's a contender for the Norris Trophy each year." Should it then come as a surprise to you that he's the Captain of the team that's in the Stanley Cup Finals? That's a rhetorical no.

Source
http://www.nhl.com/ice/news.htm?id=410851
http://articles.boston.com/2006-08-25/sports/29247067_1_bruins-blue-moon-big-wheel
]
DISCLAIMER: The athlete on this page is not affiliated with MP45. This is not a paid endorsement. Muscle Prodigy LLC makes no claim that the celebrities and athletes featured on the site are promoting Muscle Prodigy or are users of the products mentioned throughout the website. Please read our Terms of Use.
Related Articles
Muscle Prodigy Products
Basic Information
Related Articles

Date Published : 2011-12-10 04:21:41
Written By : Jaret Grossman