Home
Sport-Specific
Celebrity Pro Athlete Workouts
Troy Polamalu Workout
Troy Polamalu Workout
Troy Polamalu may have the NFL's most unique hair and maybe even the most unique workout routine. Polamalu's workout focuses on isokenetic training. Polamalu was injured his past two years after playing three years without even missing a practice. Therefore, to help with his rehabilitation, he does isokenetic training, even doing so year round with his trainer Marv Marinovich.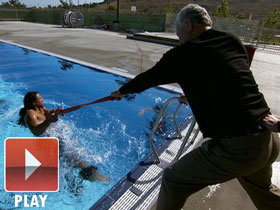 As you can see in the above video from the NFL, isokenetic is type of exercise that requires special, expensive training equipment that increases the load as it senses that the muscle contraction is speeding up. The benefit of isokenetic training is that the body develops strength evenly all through the entire range of movement. This is one of the fastest ways to increase muscle strength.

Polamalu doesn't use free weights with this training. Instead, he uses things like medicine balls, heavy shoes, and wobble boards. He is teaching his muscles to fire quicker and more explosively. His trainer Marv Marinovich believes that Polamalu's training isn't about how big he can get. In fact, he believes that being bigger means being slower. Polamalu is instead systematically training each piece of the body from the toes to the head.
If you are an athlete and want to improve in your sport, you must follow a precise strength training, conditioning, and nutrition program. MP45 is a step-by-step athlete workout program that walks you through exactly what to do to excel as an athlete. This is the type of training and nutrition followed by many of the world's top professional athletes.
]
DISCLAIMER: The athlete on this page is not affiliated with MP45. This is not a paid endorsement. Muscle Prodigy LLC makes no claim that the celebrities and athletes featured on the site are promoting Muscle Prodigy or are users of the products mentioned throughout the website. Please read our Terms of Use.
Related Articles
Muscle Prodigy Products
Basic Information
Related Articles

Date Published : 2011-12-11 01:57:44
Written By : Richard Allen