Home
Nutrition
Supplements Advice
Top Protein Powders: The 5 Best for Ripped Results
Top Protein Powders: The 5 Best for Ripped Results
When it comes to bodybuilding and muscle gains, protein is an absolute necessity in your strength building program. It can be difficult gobbling down enough protein through a natural diet, so it is often recommended to include a protein supplement in your weight gain diet.
How to Determine a Good Protein Powder


There are dozens upon dozens of protein supplements on the market today and just picking one off the shelf doesn't necessarily mean you're going to get an effective one. There are certain qualities which you should look for in a good protein powder. Qualities that will help give you maximum muscle mass.

When you're shopping around for a protein powder, gauge your choices by investigating the following important points:

Ingredients and Composition – A good protein powder will contain not only the best ingredients for the dilution, digestion, distribution and development of muscle fiber, but they will also be present in the right concentrations for complementing other ingredients so you obtain maximum benefits.


Effectiveness – Many protein supplement products contain similar ingredients with only slight variations in either the type of ingredients or the amounts used. Therefore, in order to get the best protein powder, you want to check out reviews of the products and see if previous users have been getting the desired results. If the product meets the goals of former users then it will probably meet your weight gain goals as well.

Time Until Results – Let's face it. When it comes to slamming iron at the gym and committing time to a fitness program, we want to see results as soon as possible. Certain protein supplements may do their job and increase muscle mass, but only after long periods of time due to their low percentages of effective ingredients. Therefore, look for the time it takes for specific protein powders to produce results.

Safety – You definitely don't want to acquire negative results and nasty side effects from a protein powder supplement. Therefore, check to make sure that the product doesn't use ingredients which have been found to be harmful to your health.

Value – You normally get what you pay for so if the product is notably cheap, check the previous list of points closely. However, good deals exist out there for good protein powders, making their overall value something to snatch. Getting great ingredients and great results at a great price is a plus!
Top 5 Protein Powders


#1 Protein Powder – Cellucor Super Sport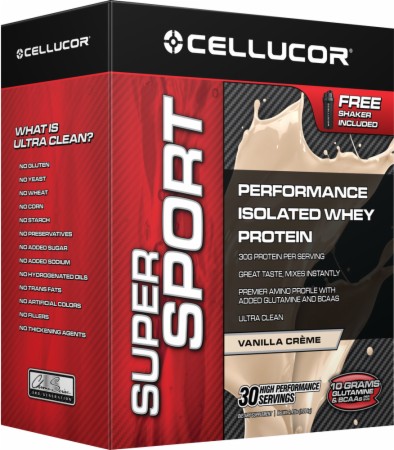 Cellucor Super Sport protein was specially designed to supply you with high performance. You get 30 servings of ultra clean isolated whey protein combined with hydrolasates, Glutamine and BCAAs for a maximum fuel formula that feeds muscle growth and allows for rapid muscle recovery.

Because Cellucor's Super Sport protein powder is hydrolyzed, you get enhanced absorbtion and the 10 grams of Glutamine and BCAAs are the most of any other protein product on the market today. Its 30 grams of protein per serving is equivalent to a 5 oz chicken breast.

Super Sport is CLEAN! Not only does this protein powder contain the highest quality ingredients, but it also is free of many other fillers and additives that have no place in a good protein supplement. Super Sport by Cellucor has absolutely no preservatives, artificial colors, added sugar, added sodium, hydrogenated oils, trans fat, gluten, corn, wheat, starch, or gluten.

You can select from between two tasty Super Sport flavors of Vanilla Crême or Milk Chocolate which dissolve instantly in any of your favorite beverages. What's more, you get a squeaky clean and effective muscle gain formula for around $60.

This delicious and effective protein powder also stacks well with other Cellucor products, such as C4 Extreme, M5 Extreme, R3 Extreme, or L2 Exteme, so you can add a multi-supplemental punch to your weight gain diet and strength training workouts.
#2 Protein Powder – Myotein
Myotein by XPI contains 6 different kinds of protein (Whey Protein Isolate, micellar casein, L-Glutamine, Colostrum, Hydrolysate and concentrate) which are absorbed into the bloodstream at various times. This helps to feed your muscle fibers in stages, which has its benefits, especially if you are pushing your muscles to failure at each workout. However, even with all its various proteins, Myotein only contains 26 grams per serving.

This protein powder also contains a patented enzyme called Aminogen which works to break down its proteins more thoroughly so that maximum absorption is achieved. It also contains 20-Hydroxyecdysterone and Coleus Forskohlii which act as fat burners.

Myotein is a good selection for gaining muscle mass and muscle recovery as well as a nice selection for those seeking ultra lean mass or wanting to more effectively manage weight loss. However, it only comes in one flavor: Milk Chocolate, so you might get bored with it rather quickly.

Myotein protein powder averages around $50 per 1 month supply.
#3 Protein Powder – Syntha–6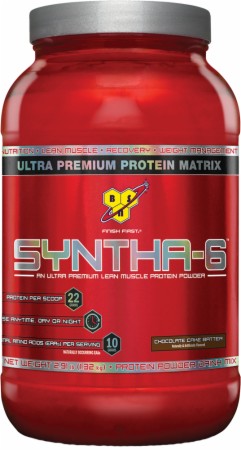 High quality proteins and stimulating amino acids are combined in this protein powder by BSN. You get 22 grams of protein isolate for easy digestion and muscle growth and gobs of glutamine peptides for good absorption and athletic performance, both of which work to bulk you up fast and reduce protein waist.

Syntha–6 also contains egg albumin (another high source of protein) as well as soy lecithin which is a good source of fatty acids, triglycerides, amino acids and other important ingredients which work at building muscle and burning fat.

Syntha–6 protein powder comes in 9 flavors and can be purchased for between $25 and $40 per 2.91 lb can.
#4 Protein Powder – Zero Carb Isopure


Zero Carb Isopure by Nature's Best is chocked full of protein (50 grams) from whey protein isolate. You might think "Wow! That's a lot of protein!" However, you must remember that protein is not stored in the body, so whatever amounts are not immediately used for muscle repair are eliminated as waste. It is bolstered with several major BCAAs as well as glutamine to help with muscle recovery, but a lot of its protein will undoubtedly go to waste.

One of the highlights of this protein supplement is that it's clean and totally free from such undesirable as fat, sugar, carbs and lactose. Another is that it comes in a large variety of flavors. Zero Carb Isopure ranges from around $50-60 for a 3 lb can.
#5 Protein Powder – Muscle Tech Nitro
From the Tech Pro Series by MuscleTech comes Muscle Tech Nitro, a protein supplement geared towards hardcore bodybuilders and athletes. This formula contains 25 grams of protein as well as 11 grams of Leucine and 13 grams of additional amino acids.

The downfall is that Muscle Tech Nitro doesn't dissolve as well as the previous protein powder products even though it can be found in a price range of $30-40 and comes in 9 different flavors.
This is a sponsored advertisement featuring Cellucor
Related Articles
Muscle Prodigy Products
Basic Information
Related Articles

Date Published : 2013-01-25 12:30:03
Written By : Rod White