Home
Sport-Specific
Sports Entertainment
Top 25 Dumbest Things in Sports History- Stupid Athletes & Dumb Moments
Top 25 Dumbest Things in Sports History- Stupid Athletes & Dumb Moments
We all love sports but we sure love idiots. Here are the top 25 dumbest things in sports history pertaining to stupid athletes and dumb moments...
---
#25- Keith Ballard's Stick
---
Panther defenseman Keith Ballard, in a wave of frustration, tried breaking his stick on the goalpost after the Atlanta Thrashers scored a goal. The only problem with that: he hit his goalie instead.
Check out Ballard smashing Vokoun in the face:

---
#24- Dan Gilbert's Tweet
---
After LeBron James decided to take his talents to South Beach during the 2010 summer, the Cleveland Cavaliers owner Gilbert posted a public letter to his fans writing in all capitals, "I PERSONALLY GUARANTEE THAT THE CLEVELAND CAVALIERS WILL WIN AN NBA CHAMPIONSHIP BEFORE THE SELF-TITLED FORMER 'KING' WINS ONE. You can take it to the bank." I'm sure he regrets making that prediction.
---
#23- Clint Barmes' Deer Meat
---

In 2005, Barmes broke his collarbone when he fell walking up his stairs in his apartment building. At the time, Barnes was carrying a package of deer meat given to him as a gift by Todd Helton. He was sidelined for the rest of the season and ruined his chances of winning the batting title.
---
#22- Milton Bradley's Temper
---
In a crucial playoff-implicating game between Bradley's Padres and the Rockies in 2007, Bradley completely lost his cool after a call at first base. After Bradley's manager came out to prevent Bradley from going after the ump, Bud spun Bradley to the ground. In the process, Bradley tore his ACL in his right k nee. Since his midseason acquisition to the Padres, he had been the most important and consistent hitter on the team. The Padres missed the playoffs.
Check out why Milton Bradley is absolutely crazy:
---
#21- Tiger Woods' Pants Party

---
This man had everything leading up to the end of 2009. He was the best golfer in history, the world's most popular athlete and had a beautiful wife and nearly a billion dollars to show for it. If he wanted to fool around with dozens of woman, he should have stayed single or broke it off with his wife. End of story.
Check out Tiger Woods' voicemail to Jamie Grubb, one of his many mistresses:
---
#20- Albert Haynesworth's IQ

---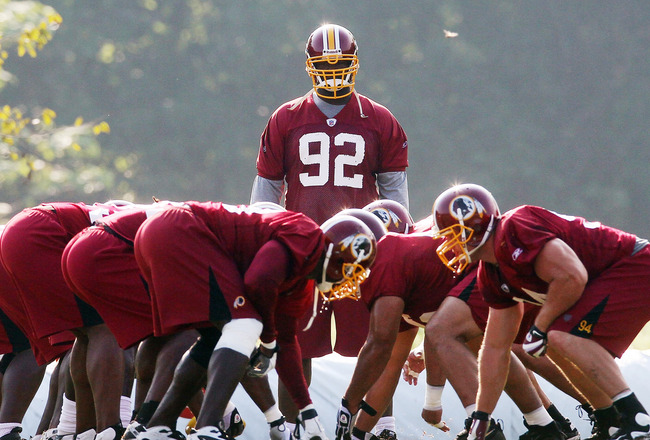 Albert Haynesworth has to be the single dumbest athlete on this planet. After signing a $100 million contract with the Washington Redskins in February 2009, the richest contract for a defensive player in the history of the NFL. The Redskins should have known what they were getting into when they signed Haynesworth. Stepping on a Cowboys player who was on the ground with his helmet off should have been a warning sign for owner Dan Snyder and the Redskins. After a disappointing 2009 season, Haynesworth failed conditioning tests before the 2010 training camp. After recording just 2.5 sacks during the first part of 2010, Haynesworth was suspended for the remainder of the season on Dec. 7 for conduct detrimental to the team. He reportedly refused to listen to his coaches and was quoted as saying "Just because somebody pay you money doesn't mean they'll make you do whatever they want. I mean, that means everything is for sale. I mean, I'm not for sale. Yeah, I signed the contract and got paid a lot of money, but just because, that don't mean I'm for sale or a slave or whatever." To make matters worse, Haynesworth had a share of issues off the field, including incidents of road rage and alleged sexual assault at the W Hotel in February. On July 28, Haynesworth was traded to the New England Patriots in exchange for a 2013 fifth-round draft choice. This man simply ruined his career, lost any respect from players or fans, and lost a lot of money in the process (but he still made millions upon millions). The bigger question...who may be dumber: Albert Haynesworth or Redskins owner Dan Snyder for simply signing the guy?

Check out Albert Haynesworth stomping Andre Gurode:
---
#19- Brett Favre's SEXcapades
---
Nobody has retired and unretired more than Brett Favre. It's not only stupid but quite annoying. Also…who could forget when Brett Favre supposedly sent a picture of his genitals to Jenn Sterger and left her that infamous voicemail. The man doesn't know when to quit…literally.
Check out Brett Favre's voicemail to Jenn Sterger:
---
#18- Matt Millen's Mismanagement
---
Matt Millen was the president and CEO of the 2008 Lions. He deserves a spot on this list for simply creating the worst football team in the history of the NFL after becoming the first team in history to compile a 0-16 winless record. It is no wonder why Millen was fired the day the season ended. Millen had to of had the worst draft strategy around by essentially picking all draft busts. He chose quarterback Joey Harrington third overall in the 2002 NFL Draft followed by wide receivers Charles Rogers, Roy Williams, Mike Williams all in the top 10 in the next three consecutive drafts. He took a fourth wide receiver in Calvin Johnson within five years. At least he can say he was smart enough to draft Calvin Johnson…
Check out what the Detroit Lions fans think of Matt Millen:
---
#17- Kellen Winslow, The Soldier
---
This man acted like a straight fool. During a 2003 game against the Tennessee Volunteers, Winslow lashed out at the Southeastern Conference officials Saturday, saying they targeted him during the game.
Check out what pisses off Kellen Winslow- he's a soldier:
---
#16- Tony Allen's Slam Dunk
---
During the final minutes of a game in which Tony Allen's Celtics were trailing big to the Pacers, the referee blew the whistle. Allen continued with the play and dunked the ball, leaving him with a torn ACL and MCL, costing him the season.
Check out Tony Allen's injury when trying to dunk the ball:
---
#15- Michael Phelps' Bong Rip
---

Nearly three months after he won his unprecedented eighth Gold metal at the 2008 Olympics in Beijing, Michael Phelps was caught in a picture smoking out of a bong during a house party at the University of South Carolina.
---
#14- Bill Gramatica's Kick
---
After successfully kicking a 42-yard game winning field goal in December 2001, Gramatica tore his ACL while celebrating.
Check out Bill Gramatica's injury when celebrating his field goal:
---
#13- Joel Zumaya's Guitar Hero
---
During the 2006 American League Championship Series, Detroit Tigers pitcher Joel Zumaya was unable to pitch after suffering forearm and wrist inflammation in his pitching arm. The cause of the injury: playing too much Guitar Hero.
---
#12- Tiki Barber's Microphone
---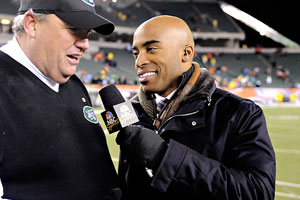 After retiring from the game in 2006 in the prime of his career, the former NY Giants running back decided to pursue a career in broadcasting. In 2010, Tiki left his wife who was pregnant with twins for a 23 year old intern. Barber was fired from NBC's Today Show shortly after. Now Barber is trying to make a comeback in the NFL. You think he regrets missing the Giants Superbowl title and all the love he had from the fans. You can sure bet on that!
Check out Mike Francesa's interview with Tiki Barber. Francesa got the best of him:
---
#11- Ben Roethlisberger's Night in Georgia
---
You would think that a man who wins as much as Ben Roethlisberger could have some control or intelligence. With two Superbowl rings and millions of dollars under his belt, Roethlisberger decided to party one night in a bar/nightclub in a small Georgia town in 2010. He ended his night being accused of sexual assault. Whether Roeslisberger ever assaulted her is up for debate, but what can be proven is the guy was acting like an absolute idiot that night. And couldn't he at least partied in Vegas, Hawaii, South Beach or Manhattan that night?
---
#10- Ricky Williams Pot Stash
---
Ricky Williams essentially chose marijuana over football. After Ricky's breakout season with the Dolphins he failed a drug test for marijuana. He faced a 650,000 dollar fine and a 4 game suspension. After failing another drug test a few weeks later he announced an "early retirement" from the NFL. A year later Ricky decided to return to the NFL managed to fail yet another drug test and was suspended the entire 2006 season.
---
#9- Zinedine Zidane's Headbutt
---
In the 2006 World Cup final, France's Zinedine Zidane was sent off from the match after head butting Italy's Marco Materazzi. Zidane claimed that Materazzi insulted his family. Either way, it should have deterred him from being sent off from the last game of his career in one of the most important games of his life in the world's biggest sporting event. France ended up losing in penalty kicks. Zidane was one of France's best penalty kickers and he may have propelled them to victory. We will never know.
Check out Zidane's infamous headbutt:
---
#8- Sammy Sosa, No Ingles
---
Sammy Sosa sat before the United States Congress in 2005 to talk about steroid use in baseball. Despite years of public appearances and numerous interviews in English, Sosa claimed he didn't speak English.
---
#7- Mike Tyson's Banter
---
Over the course of his career, Mike Tyson has made some of the most outrageous statements.
Check out Mike Tyson's funniest quotes:
---
#6- LeBron James' Decision
---
Taking his talents to South Beach was just plan and simple: dumb. We all know that Maverick Carter is no Ari Gold, but really? We'll get to Lebron in a minute, but how do you let your one client screw up that bad? He made E's decision with Medellin look like Scott Boris handling A-Rod's 26 mil. The Decision was the most egotistical, self-driven "marketing tactic" to ever appear in sports regardless of the "giving to kids argument". You think Jordan would do such a thing? No, he faxed over a signature on the contract agreement to the Bulls' owner. Maybe hindsight is 20/20 and they couldn't anticipate the media backlash, and by extension, the marketability plummeting by teaming up with a top 3 player in the league in Wade, but leaving Cleveland in the cold like that? It's not that you left, it's how you did it that bothers everyone; and besides, you teamed up with a player who has the exact same style of you. You're both ONLY effective with the ball. Not to mention, you threw away a chance of being the first billionaire athlete ever in the process by not going to New York. You say it's championships, right? Well, being the best ever is not about how many rings you collect. Then, we'd call Robert Horry top 5 of all time. It's about how you get your ring. One in Cleveland or New York is better than 8 in Miami, because at the end of the day, Wade will always have one more. If you're the best player in the world like you continually say you are, then you should be able to do it with one other top 25 player and role players. When was the last time you saw Lebron in a commercial? Yah, his marketability has gotten that bad.
Check out these absolutely hysterical and funny LeBron James parody videos. Best videos on this article:
---
#5- Ron Artest's Judgement
---
Not only did Artest admit that he used to drink Hennessy Cognac in the locker room at halftime when he played for the Chicago Bulls but he also spent 20 days in jail and was excused from the Sacramento Kings indefinitely after he was arrested for domestic abuse. Oh yeah…and who could forget attacking fans in the stands that banned him for the rest of the 2004 NBA season. The infamous "Malice at the Palace" was probably the poorest display of sportsmanship and judgement in the history of professional sports.

Check out Ron Artest jumping in the stands and attack this fan:
---
#4- Michael Vick Doing the "DOGgie"

---
After racking in nearly 25 million dollars a year in salary and endorsements and being known as the most electrifying player in the NFL, in 2007, it was discovered that Vick operated a dog fighting operation for 5 years. After a 48 million dollar lawsuit, Vick filed for bankruptcy and went to prison for 18 months. Vick lost everything: money, endorsements, football, and most importantly, his fans. He may be picking up the pieces with his incredible 2010 season but he lost a lot of years to his life and practically destroyed any positive legacy.
---
#3- Gilbert Arenas' Gun Fetish
---
After signing a six-year deal worth $111 million, Arenas lets his guns get the best of him. In December 2009, it was revealed that Arenas had admitted to storing unloaded guns in his locker and surrendered them to team security. A month later, Arenas had unloaded guns in the Wizards' locker room during a Christmas Eve argument regarding gambling debts. To make matters worse later in the month, Arenas pretended to shoot his team with guns made from his fingers prior to a game against the Philadelphia 76ers. He was suspended for the rest of the season and lost much of his salary and endorsements.
---
#2- Pac-Man Jones "Making it Rain"
---
Adam "Pac-Man" Jones had huge potential after being drafted in the first round of the 2005 NFL Draft. In 2007, a year after his breakout season, Pac-Man was banned from the NFL for his "actions off the field." Pac-Man has a full rap sheet of stupid things he has done. Perhaps the most notable is possibly ordering a hit on a bouncer at a strip club that left one man paralyzed and "making it rain", slapping and banging the heads of strippers and denying that it ever occurred. Little did he realize there was a room full of witnesses. Not to mention that a year later he went to a strip club the night before meeting with NFL commissioner Roger Goodell.
---
#1- Plaxico Burress' Gun Control
---
In late November 2008, Plaxico Burress shot himself in the leg at a New York City nightclub. According to Plaxico, the gun (tucked into the waistband of his pants) had begun to slip and in reaching for the gun he accidentally pulled the trigger and shot himself. Why did he have a gun on him in the first place and couldn't he of at least turned the safety latch on? Talk about straight stupid.
Related Articles
Muscle Prodigy Products
Basic Information
Related Articles

Date Published : 2011-12-10 16:17:54
Written By : Richard Allen