Home
Sport-Specific
Sports Entertainment
Top 10 Most Jacked MMA Fighters
Top 10 Most Jacked MMA Fighters
These are the top 10 most ripped and muscular MMA fighters from various organizations in the world (listed in order). Not only will these guys rip your head off when given the opportunity, but their bodies are worthy of true gladiators. They fit their roles as warrior beasts to its entirety. These are the baddest men on the planet and their physiques only do some of the talking; their fists and feet do the backing up. So this begs the question, is there a connection between physique and superiority? You bet it does. Not one person on this list has a losing record. The more intense you train and the better you diet, the better your success in the octagon. Being that this list is very subjective, we created a list based on a combination of criteria including muscular size, vascularity, leanness, proportionality, aesthetics, and rarity of body types. We supplied you with pictures so you can see more clearly why we chose one athlete over the other and who has a better physique in our eyes.

---
10) Kazuyuki Miyata


League: Dream
Career MMA Record: 9-7
Nationality: Japanese
Age: 34
Height: 5'7 (1.52 m)
Weight: 155 lb. (70 kg)
Division: 155
Style: Wrestling
Miyata is currently a mixed martial artist in the Dream promotion of MMA. At only 155 pounds he is only in the Featherweight Division, but man does he packs a mighty physique. Miyata started his career as a successful Japanese wrestler, competing for Japan's Freestyle Wrestling Team in the 2000 Olympics. His success in wrestling is what proved to give him a strong foundation of MMA, and if we saw anything from this past weekend at UFC 118, we saw that wrestling proves to be dominant in this sporrt (see Couture beating Toney and Edgar beating Penn). Miyata got off to a bit of a slw start, but has won his last 4 bouts .

---
9) Todd Duffee

League: UFC
Career MMA Record: 6-1
Nationality: American
Age: 24
Height: 6'3 (1.91 m)
Weight: 260 lb. (120 kg)
Division: 265
Style: Boxing


Todd Duffee always had an intense passion for sports, whereby he used football as a platform to get a college education. However, an injury forced him to move on from football, where he entered the world of MMA. He started off boxing and saw some guys doing MMA, whereupon, he was immediately intrigued by the sport and said to himself, "I want to make this a career". Todd Duffee hasn't looked back once with a 6-1 career record and he is currently the world record holder in UFC for the fastest knockout in only 7 seconds. According to MuscleTech, Todd Duffee's core workout consists of:
Tire flips- 45 seconds x 4 sets; 1 minute rest between sets

Medicine ball sit ups- 5 sets x 20 reps

Russian Twists- 3 sets x 25 reps

Decline barbell sit ups- 3 sets x 25 reps
---
8) Cheick Kongo

League: UFC
Career MMA Record: 15-6-1
Nationality: French
Age: 35
Height: 6'4 (1.93 m)
Weight: 237 lbs. (107.5 kg)
Division: 265
Style: Savate, Kick-boxing, Muay Thai, Greco-Roman Wrestling
The French native, Cheick Kongo, is currently in the UFC. Kongo is considered one of the base in the sport with a 15-6-1 record. His kickboxing style has proved to be very effective beating the likes of Aldana, Silva, Mirko, Al Turk, Hardonk, and Buentello. Kongo's biggest loss came to Frank Mir where he was choked out by submission ruining his hopes of being the number one contender. Kongo's upcoming fight is UFC120 on October 16, where he fights Travis Browne and ultimately a chance to take on the champ one day. Kongo works out 6 days a week, 3 to 4 times a day. He does running, weight lifting, and practice techniques including boxing, sparring, and wrestling. He currently trains with Coach Juanito Ibarra at Quinton Rampage Jackson's camp. Cro-Cop and Kongo have a history, and Cro-Cop is awaiting his highly anticipated rematch opportunity.

---
7)Alistair Overeem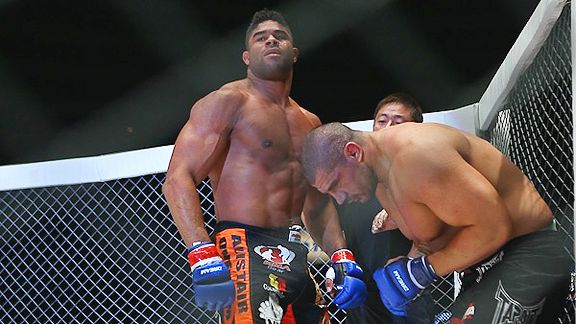 League: Strikeforce
Career MMA Record: 33-11
Nationality: Dutch
Age: 30
Height: 6'5 (1.95 m)
Weight: 253 lb. (115 kg)
Division: Heavyweight
Style: Kickboxing, Muay Thai, Submission Grappling
Alistair Overeem is a beast at 6'5" and 254.3 pounds. Overeem has an outstanding 33-11 record and the current Strikeforce heavyweight champ defeated Buentello to earn that right. Overeem is a large man, but didn't get there overnight. Overeem came in lean and wiry as you can see below. Now, he is a monster weighing 2 and a half bills of solid muscle. Just take a look at the timeline of his progression, largely in part from his nutrition and dietary needs.
Overeem contributes a large amount of his success to his diet, where he makes sure he consumes protein 7 or 8 times a day.
---
6)Thiago Alves

League: UFC
Career MMA Record: 17-7
Nationality: Brazilian
Age: 26
Height: 5'9 (1.75 m)
Weight: 170 lb. (77 kg)
Division: 170
Style: Muay Thai, Brazilian Jiu-Jitsu
Thiago Alves is a Brazilian MMA fighter with tremendous experience in Brazilian Jiu-Jitsu. The "Muay Thai Wrecking Machine" has beaten the likes of Matt Hughes, Josh Koscheck, John Alessio, and Karo Parisyan. Thiago has one of the best physiques of any athlete; he is perfectly symmetrical and has so much detail for a 170 lb. dude. Although he lost to GSP for the UFC Welterweight Championship, Thiago is widely considered one of the best this sport has to offer. Thiago Alves said "I have no life when I'm training for a fight; that's all I do is train morning to night." Thiago trains juijitsu, wrestling, and boxing for 8 hours a day to get ready for a fight. No wonder he looks the way he does. Just check out his training below.

---
5)Phil Baroni

League: UFC
Career MMA Record: 13-12
Nationality: American
Age: 34
Height: 5'9 (1.75 m)
Weight: 170 lb. (77 kg)
Division: 170
Style: Boxing, Muay Thai, Wrestling
Phil Baroni is the definition of jacked. Although he is right in the middle of the road in terms of his record, Baroni has had some impressive knockouts including Dave Menne and takes pride on the fact that he never ducks anybody. Baroni takes on all challengers and looks to challenge the best. He's always fighting a top-10 fighter. According to PrideFC, Baroni makes sure he gets breakfast within 10 minutes of waking. He has one-half cup of oatmeal and eight egg whites for breakfast along with 50-60 pills including glucosamine, chondroitin, amino acids, minerals, vitamins, and other things. "That's the fuel for the morning training session", says Baroni. Then he waits an hour, downs an energy drink, and begins his training. Mondays are sparring days, where he does a 10 minute round with top UFC 185-pound competitor Trevor Prangley with a heavy focus on kickboxing. He takes an incredibly short 60 second break, and then goes at it again for his second round (5 minutes), where they mimick the natural progression of a fight under rules. After another 60 second break, he goes 5 minutes with former ISKA kickboxing champion and K-1 veteran Travis Johnson. Then, he goes to the grappling mats for several rounds of intense ground work with Josh Koscheck, Jake Shields, and Prangley to focus on submissions, the guard, and the like. Here, they work on sweeps, transition jiu-jitsu, submission defense, and scrambling back to the feet. If submitted, they return back to their feet and start again. After they've worked for 2 hours, then Baroni hits the cardio room for 30 minutes on the bike with movable handles. He does interval training here of 60 seconds at maximum effort and 90 seconds of active rest, keeping the RPM and his heart rate above a certain limit. He has a quick post-workout recovery shake. Then, Baroni has tuna and salmon sashimi for lunch along with greens and 15 to 20 different nutritional supplements. Then, he gets his regular chiropractic and wellness treatments to help keep him healthy and increase his recovery time. Baroni instructs us that it's no massage and says, "It's no fun, but it works". Baroni then goes off to the gym again to do more grappling work and another round of sprints on the aerodyne. Once done, he does 45 minutes of cardio on the bike right after this session. He has an energy drink to cap it off. Then, he has one more meal of the day and you guessed it, 40 pills of nutritional supplements as his dessert.

---
4)Sean Sherk

League: UFC
Career MMA Record: 33-4-1
Nationality: American
Age: 37
Height: 5'6 (1.68 m)
Weight: 155 lb. (70 kg)
Division: 155
Style: Wrestling, Brazilian Jiu-Jitsu, Boxing
Sean Sherk currently holds the MMA record of 33 wins, 4 losses, and one draw. The former UFC lightweight champion has one of the best physiques ever and it proved to help him beat the likes of Kenny Florian, Nick Diaz, Hermes Franca, MArvel Gaburyan, Karo Parisyan, Benji Radach, and Tyson Griffin. His only losses were to studs B.J. Penn, Frank Edgar, Geroges St Pierre, and Matt Hughes. Sherk never knows what kind of workout he's going to get put through during his training sessions and the muscular confusion and intensity is what provides him with one of the best physiques in the world (athlete or not). Check out Sean Sherk's workout below to see what got him absolutely ripped up.

---
3) Melvin Manhoeuf

League: Strikeforce
Career MMA Record: 24-8-1
Nationality: Dutch
Age: 34
Height: 5'8 1/2 (1.74 m)
Weight: 200 lb. (90 kg)
Style: Kickboxing
Melvin Manhoef is known for his aggressive fighting style, but mainly for his incredible knockout power. The Netherlands native compiled a record of 37 wins with an amazing 27 by knockout in kickboxing, and 23 out of his 24 victories in MMA were by knockout. This man is one bad dude and his muscles sure do pack the punch (no pun intended). Joe Rogan called him "a monster; He's the most exciting striker on the planet". To combine the excellent bodybuilder look with lightning speed, stamina, recovery time, and footwork, Melvin makes sure to incorporate particular exercises for speed and explosiveness. He makes sure that the fitness exercises don't make him slower. We knew those fast-twitch muscle fibers were good for something.

---
2) Bobby Lashley

League: Strikeforce
Career MMA Record: 5-1
Nationality: American
Age: 34
Height: 6'3 (1.91 m)
Weight: 246 lb. (112 kg)
Division: 265
Style: Wrestling
The former WWE star who is currently signed with Strikeforce has as good a body as Ancient Greek and Roman artists could sculpt. Lashley was a champion in amateur wrestling, and had a tremendous following in the Entertainment Wrestling, but who in the world ever said that Entertainment/Amateur wrestlers aren't athletes? Bobby Lashley is kicking ass and taking names winning his first 5 fights against Josh Franklin, Jason Guida, Mike Cook, Bob Sapp, and Wes Sims. Although he took a hard loss to Chad Griggs, Lashley is relatively new to this sport and will find tremendous success in the future if he keeps up the hard work. Not to mention, he is a charismatic fellow who will have a strong following and good fan base in MMA. Check out Bobby Lashley's Pre-Fight Circuit Training routine below.
---
1) Mariusz Pudzianowski

League: Konfrontacja Sztuk Walki (Polish MMA organization)
Career MMA Record: 2-1
Nationality: Polish
Age: 33
Height: 6'1 (1.86 m)
Weight: 260 lb. (118 kg)
Division: 265
Style: Kyokushin Karate, Boxing
Pudzianowski claims the title as the World's Strongest Man and his transition to MMA puts him atop this list as well. Pudzianowski's body looks more like a professional bodybuilder than the Strongmen we're used to seeing on ESPN and that's probably testament to why he is so good at the sport. Not only is his strength up there with the best, but it's his stamina and quickness that takes over. Pudzianowski has now made the leap into professional fighting and has not done so bad for himself. The 5 time World's Strongest Man started off strong with 2 wins, but we saw a poor effort from him against Tim Sylvia, where he looked absolutely gassed. Those bad boy muscles need oxygen too and it's tough to pump enough blood to a 265 pound man with sub-4% bodyfat. Look for Pudzianowski's next fight against Eric Esch on September 18, 2010 in Poland. Maybe his home crowd will turn him into a winner again.

---

Honorable Mention- Rousimar Palhares

League: UFC
Career MMA Record: 11-2
Nationality: Brazilian
Age: 30
Height: 5'8 (1.73 m)
Weight: 185 lb. (84 kg)
Division: 185
Style: Brazilian Jiu-Jitsu


Honorable Mention-Phil Davis

League: UFC
Career MMA Record: 7-0
Nationality: American
Age: 25
Height: 6'2 (1.88 m)
Weight: 205 lb. (93 kg)
Division: Light Heavyweight
Style: Wrestling, Brazilian Jiu-Jitsu


Related Articles
Muscle Prodigy Products
Basic Information
Related Articles

Date Published : 2011-12-11 02:04:40
Written By : Jaret Grossman and Richard Allen