Home
Sport-Specific
Sports Entertainment
The Top 50 Most Jacked Wrestlers of All Time- Part 3
The Top 50 Most Jacked Wrestlers of All Time- Part 3
With the WWE surging with popularity as of late, especially with the success of Wrestlemania 28 and the return of Brock Lesnar, we decided to compile a list of the most jacked wrestlers of all time in order. We narrowed the list down to the most jacked body in all of pro wrestling from the past and present, whether from the WWF/WWE, WCW, ECW, TNA, etc. These athletes on the list contain a combination of muscle mass and ripped leanness to create a jacked and athletic physique. Being that this list is very subjective, we created the list based on a combination of criteria including muscular size, vascularity, leanness, proportionality, aesthetics, and rarity of body type. All of these factors contribute equally toward determining the order of the most jacked list and who has the best athletic bodies in professional wrestling. We are only considering wrestlers in their prime to compare each other. For example, 10 years ago, Brock Lesnar was much more jacked then he is now. Therefore, we use the Brock Lesnar of old for comparison (and all the other wrestlers who wrestled over many years). We provide a picture that best demonstrates each wrestler's physique in his prime and how strong he truly is. Many of you think that steroid use is rampant in the WWE. However, currently the WWE has a Wellness Program, which is administered independently by renowned medical professionals and includes performance enhancing drugs and steroid testing. These wrestlers have some of the best workout training and diet routines to get them to look like that. It really goes to show the dedication of these wrestlers to keep their bodies in prime shape all year round.

We provide each wrestler's billed height and weight, approximate decade(s) most active and their most popular and well-known wrestling affiliations. Please note that the WWE used to be called the WWF for most of its existence. However, we will consider any wrestler who wrestled in the WWF as part of the WWE (therefore we say WWE and not WWF).

Here are #30 - #21 on the list.
Disclaimer: These wrestlers do not endorse any of the products on this page.
Click here to see the next 10...
Click here to see the previous 10...
---
#30- R-Truth
WWE (Late 2000s-Present)
6'2, 248 lbs.
---
#29- Randy Orton
WWE (2002-Present)
6'4, 235 lbs.
---
#28- Eddie Guerrero
WCW/WWE (Mid 1990s-Mid 2000s)
5'8, 228 lbs.
---
#27- The Rock
WWE (Late 1990s-Present)
6'5, 260 lbs.
---
#26- Shelton Benjamin
WWE/ECW (Early 2000s-2010)
6'2, 248 lbs.
---
#25- British Bulldog
WWE (1990s)
5'11, 260 lbs.

---
#24- Billy Graham
WWE (1980s)
6'4, 260 lbs.
---
#23- Test
WWE/TNA (Late 1990s-Late 2000s)
6'6, 280 lbs.
---
#22- David Otunga
WWE (2008-Present)
6'0, 229 lbs.
---
#21- Hulk Hogan
WCW/WWE/TNA (Early 1980s-Present)
6'7, 302 lbs.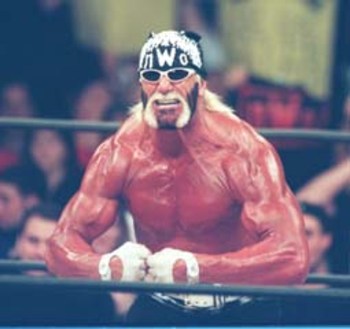 Related Articles
Muscle Prodigy Products
Basic Information
Related Articles

Date Published : 2012-04-08 17:59:34
Written By : Richard Allen