Home
Sport-Specific
Sports Entertainment
The Top 50 Most Jacked NBA Basketball Players- Part 3
The Top 50 Most Jacked NBA Basketball Players- Part 3
As we hit the halfway point of this shortened NBA season, we examined the entire NBA to find the 50 most jacked basketball players. We narrowed the list down to the most jacked body in the entire sports league. These athletes on the list contain a combination of muscle mass and ripped leanness to create a jacked and athletic physique. Being that this list is very subjective, we created the list based on a combination of criteria including muscular size, vascularity, leanness, proportionality, aesthetics, and rarity of body type. All of these factors contribute equally toward determining the order of the most jacked list and who has the best athletic bodies in professional basketball. We provide a picture that best demonstrates each player's jacked physique and how strong each athlete truly is.

Here are #30 - #21 on the list.
If you are an athlete and want to improve in your sport, you must follow a precise strength training, conditioning, and nutrition program. MP45 is a step-by-step athlete workout program that walks you through exactly what to do to excel as an athlete. This is the type of training and nutrition followed by many of the world's top professional athletes.

This product is not endorsed by any athlete featured on this page

Click here to see the next 10...
Click here to see the previous 10...
---
#30- Joel Anthony
Center, Miami Heat
6'9, 245 lbs.
---
#29- Dwyane Wade
Guard, Miami Heat
6'4, 220 lbs.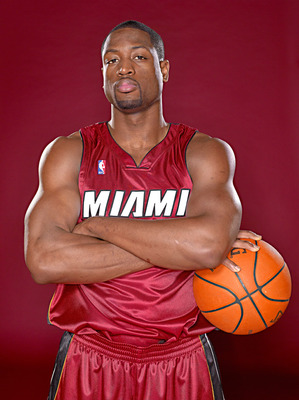 ---
#28- Will Bynum
Guard, Detroit Pistons
6'0, 185 lbs.
---
#27- Jameer Nelson
Guard, Orlando Magic
6'0, 190 lbs.
---
#26- Kobe Bryant
Guard, Los Angeles Lakers
6'6, 205 lbs.
---
#25- Bismack Biyombo
Forward, Charlotte Bobcats
6'9, 229 lbs.
---
#24- Sam Young
Forward-Guard, Memphis Grizzlies
6'6, 220 lbs.
---
#23- Kenneth Faried
Forward, Denver Nuggets
6'8, 228 lbs.
---
#22- Terrence Williams
Guard-Forward, Houston Rockets
6'6, 220 lbs.
---
#21- Tony Allen
Guard, Memphis Grizzlies
6'4, 213 lbs.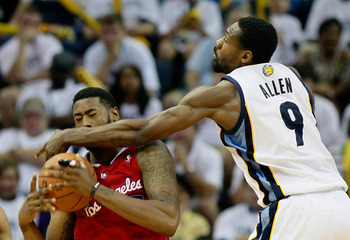 Click here to see the next 10...
Click here to see the previous 10...
]
DISCLAIMER: The athletes on this page are not affiliated with MP45. This is not a paid endorsement. Muscle Prodigy LLC makes no claim that the celebrities and athletes featured on the site are promoting Muscle Prodigy or are users of the products mentioned throughout the website. Please read our Terms of Use.
Related Articles
Muscle Prodigy Products
Basic Information
Related Articles

Date Published : 2012-03-01 12:57:10
Written By : Richard Allen and Jaret Grossman