Home
Sport-Specific
Sports Entertainment
The Top 30 Most Jacked NFL Football Players 2011- Part 2
The Top 30 Most Jacked NFL Football Players 2011- Part 2
This is part 2 of the top 30 most jacked and ripped NFL players. They have some of the most ridiculous bodies on this planet, let alone this sport.
Check out who made the list from #30 to #21 here
Check out who made the list from #10 to #1 here
If you are an athlete and want to improve in your sport, you must follow a precise strength training, conditioning, and nutrition program. MP45 is a step-by-step athlete workout program that walks you through exactly what to do to excel as an athlete. This is the type of training and nutrition followed by many of the world's top professional athletes.

This product is not endorsed by any athlete featured on this page
---
#20- Tim Hightower
Running Back, Washington Redskins
6'0, 222 lbs.
Feat of Strength: 560 lb. squat

Hightower was recently traded to the Redskins from the Cardinals and became the Redskins' starting running back for this season.
---
#19- Connor Barwin
Outside Linebacker, Houston Texans
6'4, 260 lbs.
Feat of Strength: 40.5" vertical leap

Barwin is a back up linebacker for the Texans who enjoyed a very productive college career at Cincinnati. He was was selected in the second round of the 2009 NFL Draft by the Texans.
---
#18- James Casey
Fullback, Houston Texans
6'3, 240 lbs.

Casey, drafted as a tight end by the Texans in the fifth round of the 2009 NFL Draft, is now the team's starting fullback.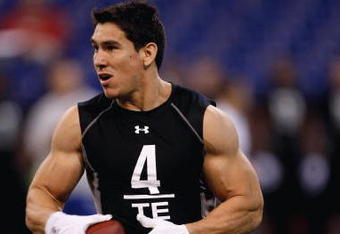 ---
#17- Ernie Sims
Linebacker, Indianapolis Colts
6'0, 230 lbs.
Feat of Strength: 25 reps of 225 lb. bench press, 41" vertical jump

Sims has seen a productive NFL career since being drafted ninth in the 2006 NFL Draft. He was drafted by the Lions, traded to the Eagles and now signed as an unrestricted free agent for the Colts.
---
#16- Brian Cushing
Inside Linebacker, Houston Texans
6'3, 248 lbs.
Feat of Strength: 35 reps on 225 lb. bench press

The 2009 NFL Defensive Rookie of the Year and All-Pro selection led the league in tackles two seasons ago.
---
#15- Brady Quinn
Quarterback, Denver Broncos
6'3, 235 lbs.
Feat of Strength: 24 reps of 225 lbs. (QB record)

Quinn, a four year starter at Notre Dame, has seen little NFL success as of late. He is currently listed third on the Broncos' depth chart, behind quarterbacks Kyle Orton and Tim Tebow.
---
#14- Jon Beason
Middle Linebacker, Carolina Panthers
6'0, 237 lbs.

Beason, a 2x All-Pro selection, is one of the best middle linebackers in football. However, Beason injured his left a chillies tendon and will miss this season.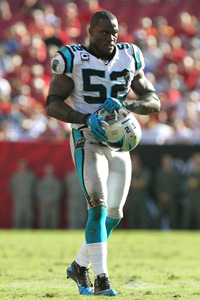 ---
#13- Patrick Willis
Inside Linebacker, San Francisco 49ers
6'1, 240 lbs.
Feat of Strength: 500 lb. squat, 310 lb. power clean, 38" vertical jump

Patrick Willis is regarded by many as the best inside linebacker in the NFL. Willis has earned Pro Bowl and All-Pro honors all four years he has played in the NFL. He is the only player to receive the Butkus Award for best linebacker in more than one category.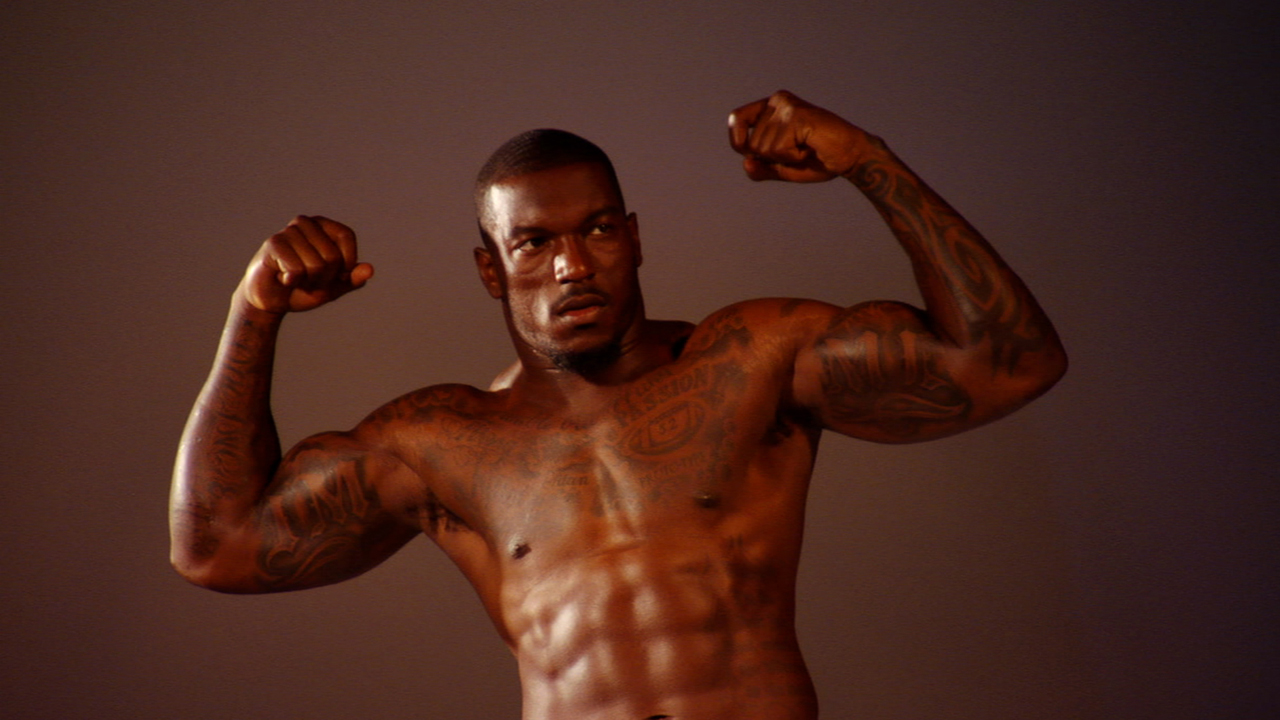 ---
#12- Peyton Hillis
Running Back, Cleveland Browns
6'1, 253 lbs.
Feat of Strength: 26 reps of 225 lbs.

Peyton Hillis was traded to the Browns last season and turned into a star. He became the first white running back since Craig James in 1985 to rush for over 1,000 yards in a season.

---
#11- Terrell Owens
Wide Receiver, Free Agent
6'3, 224 lbs.
Feat of Strength: Eats 8,000-9,000 calories a day during training camp (4,000-6,000 otherwise)

Terrell Owens is one of the greatest wide receivers to ever play the game. He shares several NFL records and remains among the top-5 in career receiving yards and touchdowns.
Check out who made the list from #30 to #21 here
Check out who made the list from #10 to #1 here
]
DISCLAIMER: The athletes on this page are not affiliated with MP45. This is not a paid endorsement. Muscle Prodigy LLC makes no claim that the celebrities and athletes featured on the site are promoting Muscle Prodigy or are users of the products mentioned throughout the website. Please read our Terms of Use.
Related Articles
Muscle Prodigy Products
Basic Information
Related Articles

Date Published : 2011-09-29 06:40:43
Written By : Richard Allen