Home
Sport-Specific
Sports Entertainment
The Top 10 Most Jacked NHL Hockey Players- Part 2
The Top 10 Most Jacked NHL Hockey Players- Part 2
Continuing with our list, here are the remaining 5 most jacked in hockey today. Every player on this list is currently in the NHL or has played in the NHL within the past two seasons.

Click here to see #10 - #6 on the list
---
#5- Chris Chelios
Retired Defenseman, Detroit Red Wings
5'11, 195 lbs.
Chris Chelios is the 2nd oldest player to ever suit up in NHL gear, playing into his late 40's, yet still manages to be in fantastic shape to this day. He appeared in the playoffs 24 times showing his dominance on the defensive end to get his team to compete to the fullest every season. The 3x Defenseman of the Year trained with trainer NHL transformer T.R. Goodman, who trains over 25 NHL players. Goodman is a big believer of periodization, in which he never does the same workout day after day. Instead, Goodman gives Chelios a workout that incorporates muscular endurance, muscular strength, and high performance adding lots of variety. When Chelios trains, he focuses on ability and strength, not being concerned with aesthetics (although, it hasn't made his body suffer one bit from the looks of it).
This may be one of the most ferocious hits ever delivered in the NHL...
---
#4- Raitis Ivanans
Left Wing, Calgary Flames
6'4, 240 lbs.
Ivanans, while not a skilled forward (holding the NHL record for most games played in a season without recording a single point- 61), is a brute enforcer. He will lead any team he plays for in penalty minutes and is ready to drop his gloves down anytime, anywhere. However, that may have led to his demise as a hockey player because he is now suffering from post-concussion syndrome after he suffered from a debilitating concussion during a third period fight with Oilers' heavyweight Steve MacIntyre in last season's opener.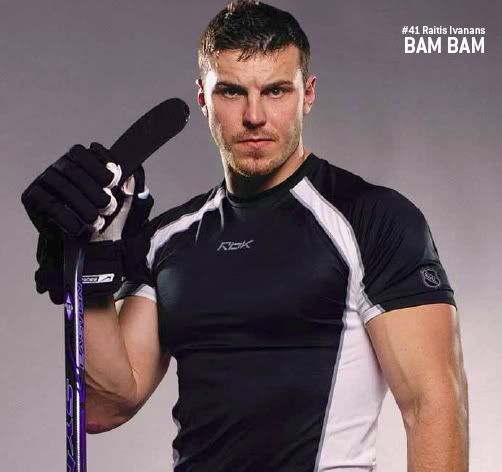 Listen to what Laraque says to Ivanans before they drop the gloves. This is a classic...
---
#3- Zdeno Chara
Defenseman, Boston Bruins
6'9, 225 lbs.
Zdeno Chara is known as one of the strongest NHL players and a true workout fanatic. At the Bruins strength testing session, he did 31 consecutive wide grip pull-ups, a feat that most young bodybuilders and top athletes probably couldn't do.

So what does a day in the life of Zdeno Chara look like? Well he wakes up, has a big breakfast, and then immediately goes to his first of four workouts. Yes…four workouts. Every workout day is different, specifically designed by his trainers to keep him interested and motivated. Chara puts in 6-7 hours of training a day, which consists of cardio, weight training, agility exercises, hockey techniques, speed skating drills, film work, and conditioning exercises. Even after games, Chara will work out for an extra hour or two, working until well beyond midnight and keeping his fiancée in the wives' room waiting for him to finish.

Chara is known for his discipline, and especially when it comes to his nutritional diet habits. He like his meats lean (he prefers rabbit), his potato baked (without any salt, butter, or sour cream), and his veggies steamed (no dressing). He will rarely, if ever, have alcohol. If he does decide to drink, he prefers one glass of red wine, and will only put caffeine into his body once every three weeks with one cup of cappuccino.

Chara is also a big cycling fan and uses it as an additional tool to work out for 4 to 5 hours at a time. He also partakes in Greco-Roman wrestling and the martial art of aikido and has since been dubbed as the most feared fighter in the NHL. Chara says, "No one likes to fight, really, but I understand there are times you have to do it -- to stick up for yourself, a teammate, or change the rhythm of a game." Imagine getting into a fight with that guy…

Yes, we know these pictures are a bit much but we need to show he is jacked somehow...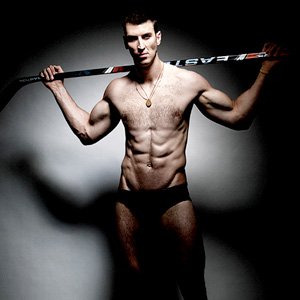 This may be one of the biggest hits (and cheap shots) in NHL history...
---
#2- Tyler Seguin
Center, Boston Bruins
6'1, 185 lbs.
This young kid doesn't look like much, but Tyler Seguin is known around the league as "The Phenom", often being compared to Tampa Bay's star forward Steven Stamkos. His dedication towards hockey and working hard has certainly paid off and is the first teenager to score 4 points in a NHL playoff game since 1989. Seguin is known for packing on a lot of muscle mass since he first entered the league and has worked endlessly with trainers in the gym to bulk up the once scrawny frame. Seguin finished #1 by Central Scouting in the final rankings of the 2010 fitness rankings for NHL prospects and will be a stud in this league for years to come so long as the hard work and dedication to be the best continues. Capturing a Stanley Cup his rookie year probably indicates he's off to a good start...
Check out Seguin busting out the Dougie after winning the Stanley Cup last season...

---
#1- Rod Brind'Amour
Retired Center, Carolina Hurricanes
6'1, 205 lbs.
Rod Brind'Amour has been often noted as being a freak of nature that possessed one of the better physiques in all of sports, and especially for a man his age. Brind'Amour played with more intensity than anyone in the NHL and was the difference maker in leading the Hurricanes to their first Stanley Cup Championship in 2006. Brind'Amour has legendary workouts and is often called the bionic player for never getting tired; he nearly led the league in average minutes played as a center, a statistic dominated by defensemen. He has extreme commitment to physical training, doing it ever since he was 12 years old and has been hooked ever since. He even got locked out of the gym at Michigan State for working out too much. The offseason is especially where Brind'Amour makes his strides and during the season is more of a maintain status quo type mantra.

Brind'Amour often does a routine of periodization in which he does a "Get Big" Hypertrophy training phase for 4 weeks followed by a "Get Strong" Maximal Strength training phase for 6 weeks, and then a "Get Fast" Power training for 4 weeks. This type of variation keeps his body guessing and allows him to enhance all aspects of his performance abilities.

During his latter years, Brind'Amour focused less on weights and more on conditioning and cardio.
Rob Brind'Amour was an absolute beast when he trained. Check out his intense training regimen...
---
Most Jacked Guy in Hockey- Trevor Timmins
Montreal Canadians Head Scout
Even though he's not a player, we have to put him on here just because he's affiliated with hockey and he's probably the most insanely jacked guy ever affiliated with the sport in general. Timmins is the director of player development for the Montreal Canadians and is in charge of the entry draft and the summer development program. Timmins is on the road traveling about 5-6 days a week, and no matter where he is, he always looks to find a gym. He says that it helps with the stress and he always tries to stay in top shape. Timmins is a health freak and usually sticks with a lean protein like grilled chicken breast or grilled salmon with broccoli and a baked potato.
Just look how big Timmins' arms are in this video. This guy is jacked out of his mind!
Related Articles
Muscle Prodigy Products
Basic Information
Related Articles

Date Published : 2011-11-01 14:21:42
Written By : Richard Allen and Jaret Grossman