Home
Sport-Specific
Sports Entertainment
The Top 10 Most Jacked NHL Hockey Players- Part 1
The Top 10 Most Jacked NHL Hockey Players- Part 1
We originally came out with a comprehensive list of everyone jacked in the NHL. However, at numerous requests by hockey fans, we narrowed the list down to the Top 10 Most Jacked NHL Players. Every player on this list is currently in the NHL or has played in the NHL within the past two seasons. Here is #10 to #6. Be sure to check out the next page for the top 5.


---
#10- Douglas Murray
Defenseman, San Jose Sharks
6'3, 245 lbs.


The 2x All-American from Cornell and Long Island native has certainly made the most out of his ability to prolong an NHL career, being drafted in the 8th round in 1999. "Crankshaft" has gained significant praise for his physical presence on the ice as well as his solid defense making upwards of 5 hits per game. Murray wasn't officially a full-time player in the NHL until he was 27, and now four years later he is among the NHL's most respected shutdown defensemen.
Just watch how tough and strong Murray is as he beats the crap out of this opponent...
---
#9- Jaromir Jagr
Right Wing, Philadelphia Flyers
6'3, 240 lbs.
The two time Stanley Cup champion, 5x Art Ross Trophy winner (NHL's leading scorer), 3x Lester B. Pearson winner (League's outstanding player), and Hart Trophy winner (League's MVP) is a fitness fiend and has been skating on the ice since he was 3 years old. It is rumored that Jagr did over 1,000 squats daily with a ridiculous amount of weight on his back and had an extremely low bodyfat at around 5% even at over 240 pounds. People have said Jagr is training harder than ever, indicated by him losing 15 pounds since his last stint with the New York Rangers.


Check out Jagr's top 10 most spectacular goals
---
#8- Martin St. Louis
Right Wing, Tampa Bay Lightning
5'7, 180 lbs.
Even though Martin St. Louis is one of the shortest players in the league at under 5'9, he might have the strongest lower body to grace the ice these days by squatting over 400 lbs. The NHL's 2004 MVP claims that being so light makes him really fast, which also has propelled him to take the crown as the NHL's strongest pound for pound player. St. Louis works out with trainer Ben Prentiss at a facility in Darien, Connecticut for only an hour a day, four days a week. However, those 60 minutes are more intense than you could ever imagine. That hour of training simulates a live and ultra intense hockey game.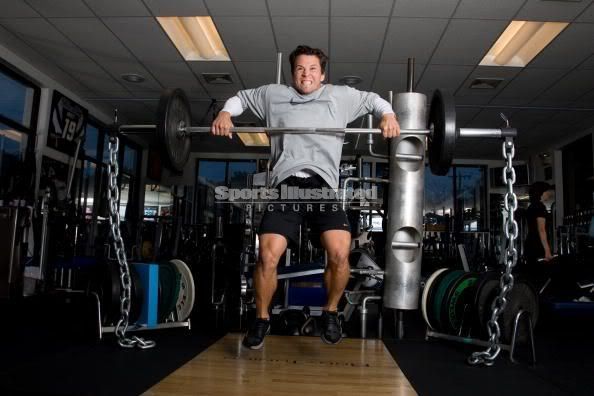 Check out this awesome highlight video of Martin St. Louis...
---
#7- Jarome Iginla
Right Wing, Calgary Flames
6'1, 207 lbs.
Calgary Flames' strength and conditioning coach, Rich Hesketh, designs a two-hour program for Iginla, in which he focuses on maximum output at short bursts. During the summer, Iginla works his off-season training as if it were a 9-5 job, Monday to Friday, weekends off. "Some people don't take weekends off," says Iginla, "I find I need it. It's a mental break." Remember, this is his off-season, when his competition is vacationing in the Caribbean Isles.
Check out Jarome Iginla lighting up the NHL's tough guy Sean Avery
---
#6- Riley Cote
Retired Left Wing, Philadelphia Flyers
6'2, 220 lbs.
Riley Cote was as physical as a hockey player gets, and during his play, he and the Philadelphia Flyers were reprimanded by the league several times for their "too-physical" play. Riley was in a ridiculous amount of fights going on a pace that would have served him more major minutes than anybody in the past decade. However, after soon-to-be MMA fighter Donald Brashear tore him up, Cote has significantly slowed his pace down. Cote is now an assistant coach for the Adirondack Phantoms of the AHL.
Check out Cote absoluetely frustrating Andre Roy during a game...
Related Articles
Muscle Prodigy Products
Basic Information
Related Articles

Date Published : 2011-11-01 14:21:40
Written By : Richard Allen and Jaret Grossman