Home
Sport-Specific
Sports Entertainment
The 15 Most Jacked Wrestling Superstars of All Time
The 15 Most Jacked Wrestling Superstars of All Time
Here are the 15 most jacked, ripped, cut, shredded, strongest, muscular wrestlers (from the WWE/WWF, WCW, ECW, TNA, etc) of all time (in no particular order).

Check out the Top 100 Most Jacked UFC Fighters list

Check out the Top 100 Most Jacked NFL Football Players list
John Cena
6'1
248 lbs.


If you haven't been doing squats, are you convinced of its benefits now?
John Cena is one of the more successful WWE superstars of all time. In the WWE, he has won a total of 15 championships. He started his professional wrestling career in 2000 but quickly signed to the WWE in 2001. Besides being a successful wrestler, Cena has released a rap album and appeared in numerous movies and television shows. Cena currently wrestles for the WWE on its Raw Brand.
---
Batista
6'6
290 lbs.
Making the cover of Muscle & Fitness and FLEX just means
you are a pure badass. Hats off to Batista for sculpting an
award-winning body.


Batista had solidified his mark as one of the top wrestlers of the decade. From his time in the WWE from 2002-2010, Batista became a six-time world champion. Batista had a rough childhood but credits the sports of bodybuilding for putting him in the right direction. Batista recently left the WWE to pursue a career in the MMA.
---
Bobby Lashley
6'3
272 lbs.
Lashley's physique is probably the most impressive in wrestling,
making the cover of FLEX, which is the magazine bodybuilders use.
Bobby Lashley appeared in the WWE for four years where he was a US Champion and ECW World Champion. However, Lashley moved on and is currently a competitor in Strikeforce and has a current MMA career record of 5-1.
---
Triple H
6'4
260 lbs.
Triple H's training is animalistic enough for them to want to do
an exclusive feature on it. Wieghte dpull-ups with not one, but
two 45 pound plates. Dave Palumbo just looks on in awe like
"you are the man right now".
Triple H won a total of 23 championships in the WWE, including 13 World Championships. He is one of the true veterans of the WWE and has competed in the company for around 15 years and counting.
---
Scott Steiner
6'1
280 lbs.
This dude's biceps were huge.
"Big Poppa Pump" Scott Steiner has appeared in numerous wrestling promotions over the years, specifically the WWE and WCW. He is a currently wrestles as a World Tag Team Champion with his brother Rick in various promotions.
---
Brock Lesnar
6'3
264 lbs.
This is hands-down the best Brock has ever looked, and his
WWE vigor transferred into the octagon. This is vintage Brock
screaming, showing how much of a beast he is.
Brock Lesnar might be more known for his MMA career than wrestling career. After leaving college as an All-American college wrestler, Lesnar embarked on a successful wrestling career, winning numerous Heavyweight titles. However, Lesnar left the WWE in 2004 to pursue a career in the MMA and has never looked back since. Lesnar became the UFC Heavyweight Champion and became the centerpiece of the sport. Recently, Lesnar lost his title to Cain Velasquez at UFC 121.
---
If you want to look like these jacked wrestlers, you must follow a precise strength training, conditioning, and nutrition program. MP45 is a step-by-step workout program that walks you through exactly what to do to build super lean muscle and strength. This is the type of training and nutrition followed by many of the world's top athletes.

This product is not endorsed by any of the wrestlers featured on this page
---
Randy Orton
6'4
245 lbs.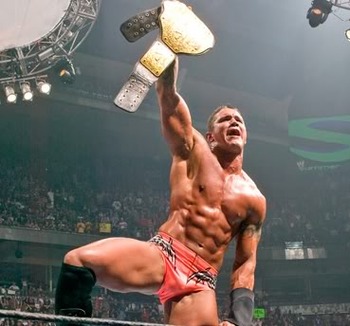 One of the best bodies in sports, look at how ripped his abs look, even at
close to 250 lbs.


Randy Orton is a seven-time world champion and 2009 Royal Rumble winner. At the age of 24, Orton became the youngest World Heavyweight champion. Orton currently wrestles in the WWE's Raw Brand as current Heavyweight Champion.
---
Chris Benoit
5'11
234 lbs.
Good body, even better wrestler. Too bad you were the
biggest piece of sh*t on the planet.


Chris Benoit was widely considered one of the most popular, respected and highly gifted technical wrestlers in history. He held a total of 32 championships during his professional wrestling career. Unfortunately, Benoit led a dark life, brutally murdering his wife and son and then killing himself in June 2007. He was booked to win his third world championship, the ECW World Championship, on the weekend of his death.
---
The Rock
6'4
225 lbs.
The Rock hasn't lost a step from his training days at UMiami when he played
football there. He still catches workouts there and still works out like an animal,
as you can see here where he's working on his shoulders and listening to some
crazy music to pump him up.
Dwayne "The Rock" Johnson revolutionized sport of wrestling and was one of the most popular wrestlers of all time due to his engaging interviews and promos. He was a nine-time world champion and third-generation superstar. The Rock left the WWE in 2004 to pursue a career in acting.
---
Bill Goldberg
6'4
285 lbs.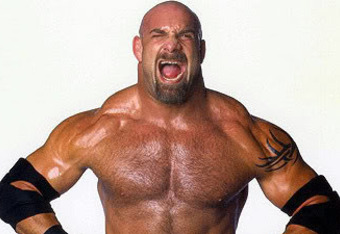 Goldberg was always known for his traps, but let's not forget how
ripped up his entire body was.
Bill Goldberg was one of the most dominating wrestlers of all-time. He is famous for holding the record for the largest undefeated winning streak in professional wrestling at 173 wins. He is the first man to hold both the WCW and WWE incarnations of the Big Gold Belt. He retired from wrestling in 2004 and is currently hosting a television show Garage Mahal on the DIY Network.
---
Buff Bagwell
6'1
247 lbs.
Very few wear the name on their sleeve like he did. Bagwell
truly was Buff, in every sense of the word.
Buff Bagwell is best known for his 10-year tenure in the WCW as five time World Tag Team Champion. Bagwell continues to wrestle on the independent circuit, most prominently for the NWA Mid-Atlantic promotion, which covers Virginia, North Carolina, South Carolina and Georgia.
---
Lex Luger
6'5
265 lbs.
Lex Luger probably had the most aesthetically proportionate
body in wrestling. This guy is one scary dude.
Lex Luger is a two time WCW World Heavyweight Champion and perhaps best known for having one of the most impressive physiques for a professional wrestler. Luger retired from wrestling 2006 and is currently is working with various Churches.
---
Chris Masters
6'4
275 lbs.
This guy has the arms, chest, and shoulders of a legit
bodybuilder.
Chris Masters is a current WWE wrestler, appearing on the SmackDown brand. He is known as one of the strongest competitors in wrestling.
---
Hulk Hogan
6'4
300 lbs.


We definitely can't forget about Hollywood on this list. He defined what it was to be jacked during his younger years.
Hulk Hogan is the "Michael Jordan" of professional wrestling. He achieved mainstream popularity in the mid 1980s through the early 1990s as the all-American, working-class hero, known as "Hulk Hogan" in the WWF (later becoming the WWE). In the mid 1990s he became the villainous nWO leader "Hollywood" Hogan in the WCW. He is credited with bringing wrestling into mainstream culture. Hogan is currently signed to Total Nonstop Action Wrestling (TNA).
---
Ultimate Warrior
6'2
275 lbs.

Ultimate Warrior had real deep cuts in his abs, as you
can clearly see here.
The Ultimate Warrior was a fan favorite in the WWF in the late 80's and early 90's, in which he won the WWF championship and pinned Hulk Hogan in the main event of WrestleMania VI. He retired from professional wrestling in 1999 and embarked on a public speaking career. In 2008, he returned to wrestle one final match in Barcelona, Spain in a match booked by an Italian wrestling promotion.
---
Honorable Mention:

Booker T
6'3
250 lbs.
Booker T was always a badass, frequently rocking the shades, and
posing down with his classic flex.
Booker T has held 35 major titles within the WWE, WCW and TNA. He is one of the most decorated tag team champions in wrestling history, winning 15 World Tag Team titles. He is currently wrestling for a Mexican promotion Perros del Mal.
Shelton Benjamin
6'3
248 lbs.
Shelton Benjamin had a pretty impressive physique,
and while it doesn't stand out like most others, it really
looks like he was completely all-natural.

Shelton Benjamin, a former All-American wrestler at Minnesota, burst onto the WWE scene in 2002 and became an Intercontinental Champion, along with winning the United States Championship and WWE Tag Team Championship twice. Benjamin currently wrestles in the World Wrestling Council, a Puerto Rican professional wrestling promotion, as the reigning WWC Universal Heavyweight Champion.
Check out the Top 100 Most Jacked UFC Fighters list

Check out the Top 100 Most Jacked NFL Football Players list
]
DISCLAIMER: The wrestlers on this page are not affiliated with MP45. This is not a paid endorsement. Muscle Prodigy LLC makes no claim that the celebrities and athletes featured on the site are promoting Muscle Prodigy or are users of the products mentioned throughout the website. Please read our Terms of Use.
Related Articles
Muscle Prodigy Products
Basic Information
Related Articles

Date Published : 2011-12-11 02:18:45
Written By : Richard Allen