Home
Sport-Specific
Celebrity Pro Athlete Workouts
Ndamukong Suh Workout
Ndamukong Suh Workout
Ndamukong Suh is one of the most ferocious defensive players in the NFL. His brute muscle size and strength can certainly be contributed to his workout and training regimen. Suh is certainly one of the stronger guys in the NFL with a 460 pound squat. At the NFL Combine, Suh did 32 reps on the 225 pound bench press and ran a 4.98 second 40 time.

In preparation for the 2010 NFL Combine, Suh trained at Michael Johnson Performance down in Texas for about six weeks. During his training, Suh focused mainly on compound movements. Doing compound movements is the best way to build muscle mass because it incorporates more of a full body workout, putting your entire body is under constant stress and muscle growth is more likely to occur. Much of an athlete's power and explosion originates from compound workouts.

Some of the types of workouts Suh did in preparation for the NFL Combine:


Power Cleans: This exercise can recruit more muscles than standard gym exercises. Your using so many muscles, including your core, to stabilize your spine throughout the movement. In addition, this exercise can improve balance and coordination, even improving your form on other exercises like squats.


Sprints with Resistance Bands: Running with resistance bands adds overall resistance to your run, which can increase overall leg strength and increase power and explosion.
Squats: Doing the front squat puts more emphasis on your quadriceps, while back squats put more emphasis on your hamstrings. Your legs constitute the foundation of strength in your body so it's very important to train your legs. Intense, compound, lower-body exercises will release anabolic hormones throughout your body, which burns fat and leads to muscle growth.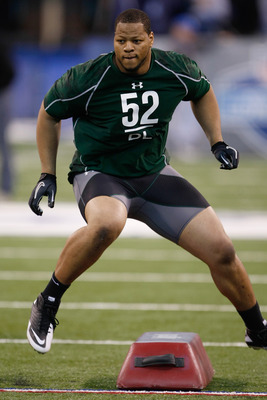 At 6'4 and 307 lbs., no one wants to get in the way of Suh.
As you can see, he has a massive upper and lower body and
his workout routine is just another shining example why he
succeeds so well.
Suh also used a recovery pool that was around 48-49 degrees Fahrenheit. This form of cold water therapy can help remove lactic acid, reduce swelling, and normalize adrenaline production so the body can recovery faster. Also, it can reduce inflammation and muscle spasms, while helping you recover from injuries faster.
If you are an athlete and want to improve in your sport, you must follow a precise strength training, conditioning, and nutrition program. MP45 is a step-by-step athlete workout program that walks you through exactly what to do to excel as an athlete. This is the type of training and nutrition followed by many of the world's top professional athletes.

This product is not endorsed by any athlete featured on this page
He also focuses a lot on working his chest and improving on his bench press. Suh tweeted his chest routine, most likely done on the flat bench press:
Five reps at 225 pounds

5 x 275 pounds

5 x 315 pounds

5 x 325 pounds

5 x 345 pounds
He also stated he can run 2.5 miles in 20 minutes, an 8 minute mile pace. Being that Suh is 6'4 and 307 lbs., that is quite an accomplishment.

In terms of his diet, Suh stated that he tries to naturally eat well. He tries to maintain a healthy amount of carbohydates and fat. One of his main meals is salmon, asparagus, and rice.

Ndamukong Suh has dominated the NFL in his first two NFL seasons for the Detroit Lions after a dominating career at Nebraska.
Source
http://www.mensfitness.com/leisure/sports/ndamukong-suh
]
DISCLAIMER: The athlete on this page is not affiliated with MP45. This is not a paid endorsement. Muscle Prodigy LLC makes no claim that the celebrities and athletes featured on the site are promoting Muscle Prodigy or are users of the products mentioned throughout the website. Please read our Terms of Use.
Related Articles
Muscle Prodigy Products
Basic Information
Related Articles

Date Published : 2012-07-02 17:54:23
Written By : Richard Allen