Home
Sport-Specific
Sports Entertainment
Most Jacked Hockey Players: Part 2
Most Jacked Hockey Players: Part 2
This is part 2 of the most jacked, strongest, and muscular NHL hockey players. Not only are these guys built for performance on the ice, these guys could all rip your head off, if and when given the opportunity. Hockey requires an unparalleled amount of toughness and fitness. While most basketball players can play close to a full 48 minutes, you'd be hard-pressed to find one player in the league who can stay on the ice for half of a game because of the demands of sprinting on ice and the physicality that big hits come with. Hockey players need to have tremendous anaerobic and aerobic capacity with some of the best VO2 maxes and leg power of any athletes. These are some of the baddest men on the planet and their physiques only do some of the talking; their play on the ice and their fists as enforcers do the backing up. So this begs the question, is there a connection between physique and superiority? You bet it does. The more intense you train and the better you diet, the better your success in the rink. Check out part 2 of the super cut up and ripped NHL body muscle right here with some of their workout and training routines provided.
Click Here to see the First Part of Hockey's Most Jacked Players


---
Pavel Bure

Retired Right Wing, Vancouver Canucks

5'11", 190 lbs.
Called the Russian Rocket because of his blistering speed, Pavel Bure won the Most Exciting Player Award 5 times, the Molston Cup 4 times, the League's MVP 3 times, and was the league's leading scorer 4 times. Pavel Bure largely attributes this success on the ice to his dedication to work hard off of it.

It is said that Pavel Bure used to stick to a intense 6 days a week routine in the off-season that included the following:

Morning: 1 hour of running, 1 hour of soccer or tennis
(Lunch/Nap)



Afternoon: 1 hour weightlifting, 1 hour basketball, and 30 min of swimming
He would frequently do 250 push-ups in a single session and run through a series of 100-meter dashes, 20 at a time with a 10-second break between
each sprint.

---
Riley Cote
Retired Left Wing, Philadelphia Flyers
6'2", 220 lbs.
Riley Cote was as physical as a hockey player gets, and during his play, he and the Philadelphia Flyers were reprimanded by the league several times for their "too-physical" play. Riley was in a ridiculous amount of fights going on a pace that would have served him more major minutes than anybody in the past decade, however, after soon-to-be MMA fighter Donald Brashear tore him up, Cote has significanlty slowed his pace down. Cote is now an assistant coach for the Adirondack Phantoms of the AHL.

---
Krysztof Oliwa

Retired Left Wing, New Jersey Devils

6'5", 245 lbs.
"The Polish Hammer" was an intimidating, physical player, who helped the Devils win the Stanley Cup in 2000, although he got injured just before the playoffs to not participate in them. He managed to build his hockey career on a foundation of pugilism and stickwork. He is now trying his hand in MMA as well, going against Superstar Strongman Mariusz Pudzianowski.
---
Joe Corvo

Defenseman, Carolina Hurricanes

6'1", 205 lbs.
Joseph Corvo is one of the most underrated defensemen in the league, known to put points on the board and clear out the front of the net. However, the knock on him is that he is known to be very lackluster with his effort in making stops consistently. Also, he is quite the hothead, and he demonstrated some of that barnyard animal behavior when he grabbed a woman's tush in a restuarant and subsequently punched her leading to his arrest and assault conviction in 2002.

However, for someone who is a workout freak and a fairly strong guy, he demonstrates little to no physical game on the ice. Corvo is trained by Thurman Hendrix and this is what he had to say in his testimonial:
"Thurman introduced me to workouts that were cutting edge for NHL hockey training. The versatility of the workouts makes them fun and challenging. He is extremely aware of where an athlete is physically and what needs to be done to improve potential. His training also entails mental tests that prepare me for all in-game situations and his nutritional expertise aids in his ability to shape top athletes. Thurman Hendrix is someone I really trust to keep helping me improve as a top player in the NHL."
---
Ray Emery

Goalie, Anaheim Ducks

6'2", 195 lbs.
Often nicknmaed "Razor" and "sugar Ray", Ray Emery is lightning quick in net. Emery led the Ottawa Senators to the Stanley Cup finals in 2007, before being unfortunately plagued with hip injuries from avascular necrosis. Bo Jackson suffered from a similar disease and spoke out about Emery, speculating that they were the only two athletes to come back after the disease. Jackson added, "I take my hat off [to him]. I want him to know I am in his corner. It's a lot of hard work. To come back and play, it takes a very, very special and driven person. He's got a different makeup to want to do all the little things he needs to compete on a professional level." Doctors told him he would have trouble walking ever again, yet, Emery has made a successful comeback to the NHL since he needed surgery that required grafting.

In January 2011, Emery began skating with an OHL team, taking shots and training with Eric Lindros, working with personal trainer Matt Nichol and goalie coach Eli Wilson. "He's as sharp and ready now as he was the summer before Ottawa Stnley Cup Final run," said Wilson.
---
Doug Murray

Defenseman, San Jose Sharks

6'3", 240 lbs.
The 2x All American from Cornell and Long Island native has certainly made the most out of his ability to prolong an NHL career, being drafted in the 8th round in 1999. "Crankshaft" has gained significant praise for his physical presence on the ice as well as his solid defense making upwards of 5 hits per game.

---
Derek Boogaard

Retired Defenseman, Minnesota Wild, Sadly Deceased

6'7", 275 lbs.
Derek Boogard, the "Boogeyman" was known primarily as a fighter and the enforcer of the league. He was voted as the second most intimidating player in the NHL, behind Georges Laraque. Yet, Georges Laraque said this of Boogard when asked about what motivated him to train so hard; "Boogaard is so tough. He's the toughest guy in the league. When I work out and I get tired, I just think about him and I just push myself. The job that I have, people are bigger and tougher. You have to be in shape, otherwise you get killed."
Unfortunately, Derek Boogard tragically was found unconscious and not breathing in his Minneapolis apartment this past May at only 28 years old; and his death shocked the NHL community. The autopsy revealed that the death was caused by mixing alcohol with oxycodone and was purely accidental.

Derek was a workout fanatic and often worked on boxing to hone in on his enforcing skills and be the league's most destructive puncher. "You should watch when he trains with the heavy bag," says Curtis Kemp, a local policeman watching from outside the ring. "The whole place shakes." Derek trained with Aaron Fiacco on boxing for three years and even opened up the Derek and Aaron Boogaard Hockey Fighting Camp, open to kids 12 to 18.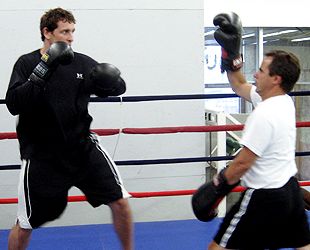 ---
Chris Higgins

Left Wing, Vancouver Canucks

6'0", 205 lbs.
Another Long Island native, Higgins struggled to earn his keep as a top NHL draft prospect in his early career, but has progressed a long way eventually being named an alternate captain for the Canadiens in 2007-08 with personal bests of 27 goals and 25 assists. He is known as a two way player with good skating, high IQ, and is capable of contributing good offensive numbers while providing some quality efforts on the defensive end. Higgins trains specifically for hockey performance with is trainer doing lots of unconventional exercises that help with balance, cooridnation, agility, and funcitonal strength. It is reported that Chris Higgins has under 5.5% bodyfat.
Chris Higgins shirtless above on the right, is doing one-legged squats with medicine ball catches and throws below.

---
Click Here to see the First Part of Hockey's Most Jacked Players

These athletes are absolute beasts in the weight room! Also make sure to check out hundreds of other pro athlete workout routines like Jarome Iginla and Roberto Luongo here!
Related Articles
Muscle Prodigy Products
Basic Information
Related Articles

Date Published : 2011-12-10 16:18:18
Written By : Jaret Grossman