Home
Sport-Specific
Celebrity Pro Athlete Workouts
Mike Tyson Workout and Boxing Routine
Mike Tyson Workout and Boxing Routine
"Iron Mike" Tyson was the undisputed heavyweight champion and youngest man to ever win the WBC, WBA, and IBF world heavyweight titles as just a 20 year old kid. His raw power and ability to knockout even the toughest of guys made his opponents look like they all had glass jaws. "Kid Dynamite" won his first 19 professional bouts by knockout, 12 in the first round, and was often considered to be one of the greatest ever until he was upset by Buster Douglas and went on to lose to the likes of Evander Holyfield and Lennox Lewis. In Mike Tyson's prime, he trained like an animal and I would suggest that his losses may have been the result of giving up that heavy-duty training. Below was a sample of his workout in his prime which was performed 7 days a week:
Daily Regimen (7 days a week):
5am: get up and go for a 3 mile jog
6am: come back home shower and go back to bed (great workout for those huge legs of his)
10am wake up: eat oatmeal
12pm: do ring work (10 rounds of sparring)
2pm: have another meal (steak and pasta with fruit juice drink)
3pm: more ring work and 60 mins on the exercise bike (again working those huge legs for endurance)
5pm: 2000 sit-ups; 500-800 dips; 500 press-ups; 500 shrugs with a 30kg barbell and 10 mins of neck exercises
7pm: steak and pasta meal again with fruit juice (orange i think it was)
8pm: another 30 minutes on the exercise bike then watch TV and then go to bed.


As you can see, Tyson took literally no off days. We wouldn't recommend this for anyone. You definitely want to have at least 1-2 days of rest, especially when you train as vigorously as Tyson did. Your body only grows and recuperates when it rests. Tyson had some of the best genetics and training staff around. He was able to train with such short rest because he needed to consistently burn the proper amount of calories and condition himself as best as possible. What works for Tyson probably won't work for you so we'd recommend rest days.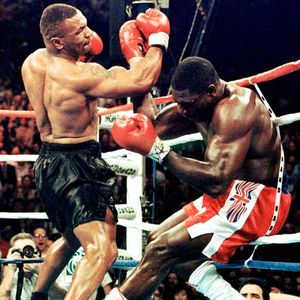 Tyson had some of the greatest power in boxing. Many people
attribute this to his insane physical training regimen and sheer
genetic makeup. Tyson could knock you out in the blink of an eye.
If you are an athlete and want to improve in your sport, you must follow a precise strength training, conditioning, and nutrition program. MP45 is a step-by-step athlete workout program that walks you through exactly what to do to excel as an athlete. This is the type of training and nutrition followed by many of the world's top professional athletes.

This product is not endorsed by any athlete featured on this page
Before jogging in the morning, he did a lot of stretching followed by 10 jumps onto boxes and 10 bursts of sprints, then he went jogging. At 12pm he sparred. At 3pm he focused on mitt work and heavy bag work inside the ring. He warmed up for his ring work with light exercises such as skipping, shadow boxing or speed ball. At 5pm Tyson did 10 quick circuits, each circuit consisting of: 200 sit-ups, then 25-40 dips, then 50 press-ups, then 25-40 dips, then 50 shrugs, followed by 10 mins of neck work on the floor. Tyson said that the shrugs is what built his shoulders up to help him punch given his short arms.
"The Baddest Man on the Planet" didn't follow a bodybuilder routine, instead he did floor exercises and natural exercises. Mike explained that his punching-power came from heavy bag work.
Source
Adapted from a compilation of YouTube clips, documentaries, forums, interviews and/or features
]
DISCLAIMER: The athlete on this page is not affiliated with MP45. This is not a paid endorsement. Muscle Prodigy LLC makes no claim that the celebrities and athletes featured on the site are promoting Muscle Prodigy or are users of the products mentioned throughout the website. Please read our Terms of Use.
Related Articles
Muscle Prodigy Products
Basic Information
Related Articles

Date Published : 2010-10-20 09:30:51
Written By : Jaret Grossman