Home
Sport-Specific
Celebrity Pro Athlete Workouts
Cristiano Ronaldo Workout
Cristiano Ronaldo Workout
Cristiano Ronaldo workout training routine is built around playing soccer. He sometimes practices over 5 hours a day. Soccer is built on interval training, constantly changing speeds. Sometimes he would run at full sprint for the ball and sometimes maintain a steady jog throughout the field. Therefore, Ronaldo concentrates on HIT training (high intensity interval training), which helps maintain his ripped muscle body and six pack abs. Ronaldo is known to do over 3,000 situps a day and has bodyfat well under 10%.

Ronaldo maintains a healthy diet, primarily eating good carbohydrates and protein but generally avoiding fat. An approrpiate breakfast for Ronaldo would be whole wheat cereal, lunch would be tuna sandwich and dinner may be grilled chicken and baked potato. He would snack throughout the day to keep his metabolism in check.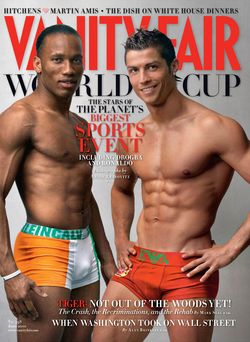 Ronaldo and Drogba are known as two of the fittest
soccer players in the world. I think their physiques
speak volumes...
If you are an athlete and want to improve in your sport, you must follow a precise strength training, conditioning, and nutrition program. MP45 is a step-by-step athlete workout program that walks you through exactly what to do to excel as an athlete. This is the type of training and nutrition followed by many of the world's top professional athletes.

This product is not endorsed by any athlete featured on this page
]
DISCLAIMER: The athlete on this page is not affiliated with MP45. This is not a paid endorsement. Muscle Prodigy LLC makes no claim that the celebrities and athletes featured on the site are promoting Muscle Prodigy or are users of the products mentioned throughout the website. Please read our Terms of Use.
Related Articles
Muscle Prodigy Products
Basic Information
Related Articles

Date Published : 2010-10-19 09:09:53
Written By : Richard Allen