Home
Training
Celebrity Workouts
Cam Gigandet Workout
Cam Gigandet Workout
Cam Gigandet might have one of the perfect bodies in terms of what a girl is looking for. Chiseled, lean, and muscular but without bulk. In a poor attempt at recreating Fight Club, the Twilight star got girls jumping out of their chairs in Never Back Down by coming through with an unbelievably ripped body. Gigandet was a reported 3% body fat for the role. Cam Gigandet's workout training routine for Never Back Down was as follows (weights included):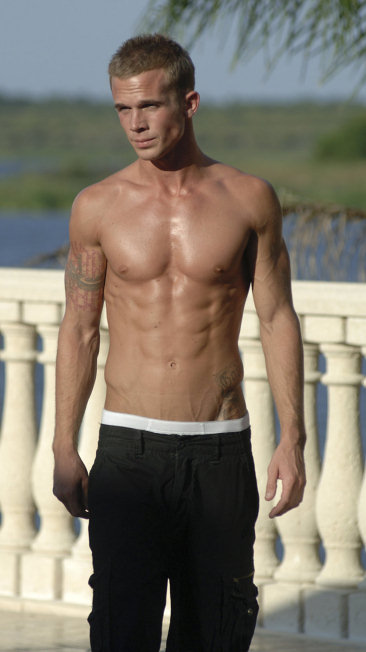 Cam's reliance on high repetitions helped him build muscular
endurance and to keep his body from packing on additional mass.


Monday – Chest
25 push ups
Nautilus press 45, 55, 65
Nautilus incline press 55, 65, 70
Pec deck machine 40, 45, 50


Tuesday – Back
Pull ups
Seated rows 75, 80, 85
Lat pull downs 85, 90, 95
T- bar rows 50, 55, 60


Wednesday – Shoulders
Arnold press 35, 35, 35
laterals 15, 15, 15
front raises 10, 10, 10
If you want to look like a jacked celebrity, you must follow a precise strength training, conditioning, and nutrition program. MP45 is a step-by-step workout program that walks you through exactly what to do to improve your physique. This is the type of training and nutrition followed by many of the world's top celebrities.

This product is not endorsed by any celebrity featured on this page
Thursday – Biceps & Triceps
nautilus curl machine 20, 25, 30
Ez curls cable 30, 35, 40
hammer curls 15, 20, 25
push downs 50, 55, 60


Friday
Treadmill 45 minutes 65-75% MHR


Saturday & Sunday- Off
Cam did 20-30 reps on all exercises to make him appear more cut.
As for his diet, Cam Gigandet had four protein packed meals per day and incorporated these foods into his diet to get that "cut" physique:

* Spinach
* Broccoli
* Berries
* Almonds
* Eggs
* Meat
Our Take: He did a solid mixture of both compound and isolation workouts to stimulate his muscles in different ways. As it seems, he doesn't do the most fundamental workouts (squats, deadlifts, barbell bench press) but he certainly has the body to show regardless. He did such high reps to really build up his muscular endurance. He ate super healthy to really contribute to his lean physique.


Source
Adapted from a compilation of YouTube clips, documentaries, forums, interviews and/or features
]
DISCLAIMER: The celebrity on this page is not affiliated with MP45. This is not a paid endorsement. Muscle Prodigy LLC makes no claim that the celebrities and athletes featured on the site are promoting Muscle Prodigy or are users of the products mentioned throughout the website. Please read our Terms of Use.
Related Articles
Muscle Prodigy Products
Basic Information
Related Articles

Date Published : 2012-05-09 13:13:18
Written By : Jaret Grossman
Most Read
Just Published
Videos